Unlike the Apple Watch, you cannot measure the sound level in decibels (dB) using built-in apps and tools on your iPhone.
But that doesn't mean you're all locked out. The App Store is full of great apps that allow you to measure the sound around you.
See sound in dB using iPhone
Here's how to measure the ambient sound level using your iOS device:
Download and install the Decibel Meter app for free.
Open the app and allow it to access the iPhone microphone when asked.
The app will now use your iPhone microphone to capture the sound around you and show the noise level as the Current Value measured in dB (decibels).
Sound level in decibels with real world example
Here's another sound level chart from the decibel app:
20dB – Threshold of hearing

30dB – Rustling leaves

40dB – Quiet whisper

50dB – Quiet home

60dB – Quiet street

70dB – Normal conversation

75dB – Inside car

80dB – Loud singing

88dB – Automobile

90dB – Motorcycle

94dB – Food blender

100dB – Subway

107dB – Diesel trick

115dB – Power mower

117dB – Pneumatic riveter

120dB – Chainsaw

130dB – Amplified Rick & Roll

140dB – Jet plane

165dB – Shotgun

180dB – Rocket launch

194dB – Loudest possible tone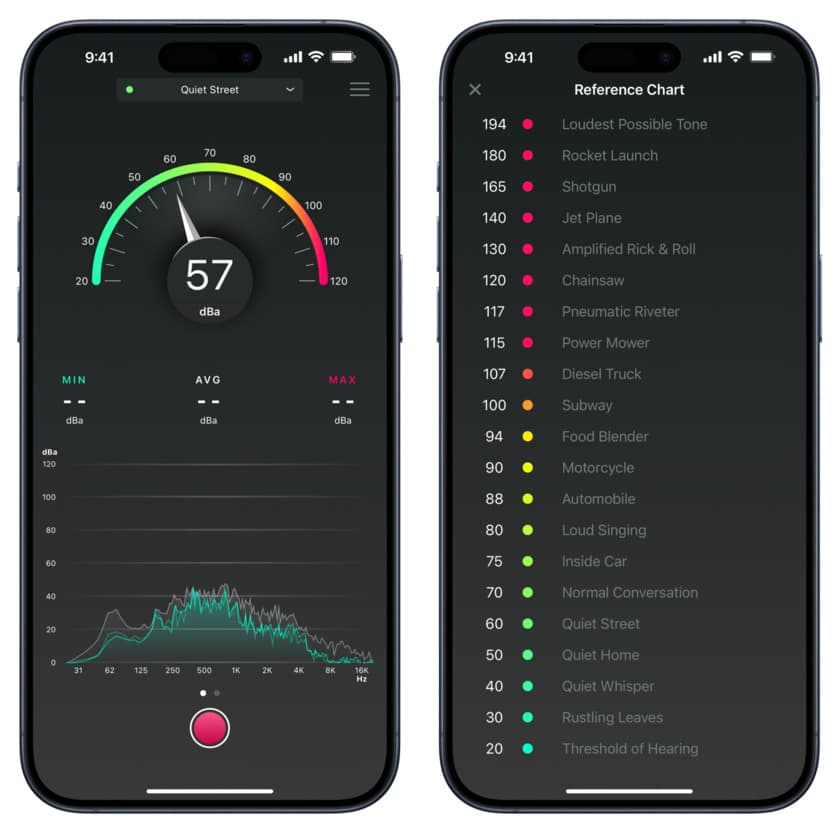 Here's a chart courtesy of the Decibel Meter app we mentioned in the steps:
0dB – Absolutely quiet

10dB – Rustling leaves

20dB – Quiet house

30dB – Quiet office

40dB – Whispering

50dB – Conversation

60dB – Loud

70dB – Disturbing

80dB – Potential hazard

90dB – May be harmful

100dB – Dangerous

110dB – Very dangerous
Best iPhone apps to measure sound level around you
In addition to the Decibel Meter app, you can also use these apps to measure the sound around you. Some of them have a Dosimeter (dosemeter) that measures the sound level and exposure over a time period like 8 hours. A few apps can also sync your noise data to the Apple Health app.
Note that all these apps are free to download and use but may have an optional in-app purchase option.
Few lawyers who love technology more than law. As a result name is the amalgamation of LAWYERS + TECHNOLOGY(TECH)
We take great interest in explaining everything with care.