Out of all mobile browsers Google Chrome has the highest global market share of 59%.

(Source: Statcounter)
Now this impressive figure is because Google Chrome is actually a very good browser. Throw any task at it and Chrome will handle it just fine.
However if you are looking for Google Chrome alternatives then here is a list of great browsers with some amazing features.
All the browsers mentioned here let you do the basic tasks like web browsing (of course), private tabs, bookmarks etc. In this article we will be focusing on the standout features which would encourage you to use that browser instead of Chrome.
BEST ALTERNATIVES TO GOOGLE CHROME FOR MOBILE
1.

ALOHA

BROWSER- VIDEO PLAYBACK IN BACKGROUND, EVEN ON YOUTUBE!
Price – Free (you can purchase subscription to remove ads and get more VPN features.)
Platform – iOS, Android
Highlights:
Picture in Picture video.
Audio playback in background for videos.
Inbuilt VPN.
ALOHA is the perfect browser for you if you watch a lot of videos (especially on YouTube and if you have not subscribed to YouTube Premium.)
Aloha allows you to play videos in picture-in-picture mode. The video stays as a small popup in the bottom of every browser tab. (you can drag and place this video in any of the four corners)
Also, even after you minimise the Aloha browser and open another app, the video's audio continues to play in the background. Great, isn't it!
YouTube wants you to pay to play audio in background. On Aloha browser you can get this feature for free.
Apart from this great feature, Aloha also has an inbuilt VPN which does not keep logs. It collects your IP address while you are using the VPN but the moment you disconnect, your IP address is deleted by them. If you buy their premium subscription you can even set the VPN to auto start whenever you open Aloha Browser. Premium version also supports phone wide VPN and allows you to select the country of your choice. Premium subscription also removes sponsored articles that you see on the browser's main page.
Aloha also claims to load pages two times faster using hardware acceleration.
Download Aloha for Android
Download Aloha for iOS
2.

ECOSIA

BROWSER- THEY

PLANT A TREE

EVERY TIME YOU SEARCH SOMETHING!
Price – Free
Platform – iOS, Android, Web, Browser Extensions
Since Ecosia is a search engine it is available on any browser on web at ecosia.org
Highlights:
Environment friendly.
Clean, Beautiful Look.
Easily accessible Favourites Button.
This is a very simple yet very clean and beautiful browser. The moment you open this browser you will love the look of it.
For approximately every 45 searches of yours Ecosia plants one tree.
On average a person makes five to ten searches a day. If you use this browser regularly this means you are indirectly planting at least one tree every week. I am sure this environment friendly concept is making you happy and you are willing to try this browser.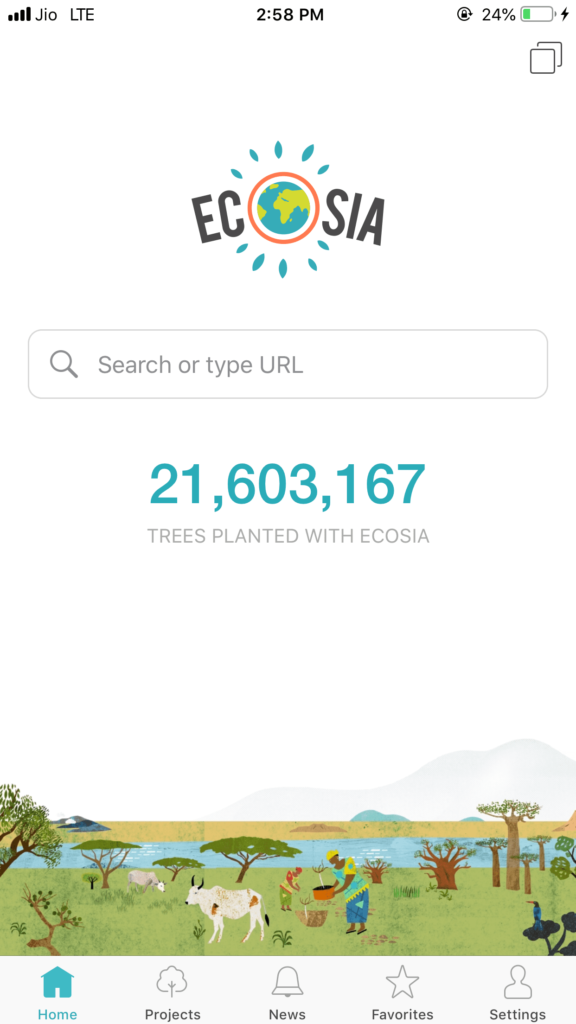 Also the bottom icon bar of this clean browser has a PROJECTS tab where you can see all the work they are doing. FAVOURITES tab lets you save your favourite website pages there. The position of FAVOURITES is such that it is very easily accessible. You will love this noble, environmentally friendly browser.

Download Ecosia for Android
Download Ecosia for iOS
3.

FIREFOX FOCUS

– FOR COMPLETE SECURITY AND ONE TOUCH DATA ERASE!
Price – Free
Platform – iOS, Android
Highlights:
Very simple and Private.
One touch data erase.
Automatic Ad Blocker and Tracking Blocker.
Touch ID.
Firefox Focus is from the makers of Firefox browser – Mozilla.
Firefox Focus is a very simple browser which is focused on complete privacy and forces you to focus on one thing at a time. As a result it does not allow more than one tab!
The moment you click on this app's icon it will open with your iPhone's keyboard already launched and ready to type. Neat!
Firefox Focus automatically blocks ads and improves page load times. It by default also provides various types of Tracking Protection and also works as a tracking-blocker in the background for Safari browser.
What makes Firefox Focus unique is that by one click you can delete the entire history and browsing data. This erase button is placed just near the search bar and is very easily accessible.
You can also set SIRI shortcut to erase entire browsing data.
Firefox Focus also allows you to lock the browser using Touch ID.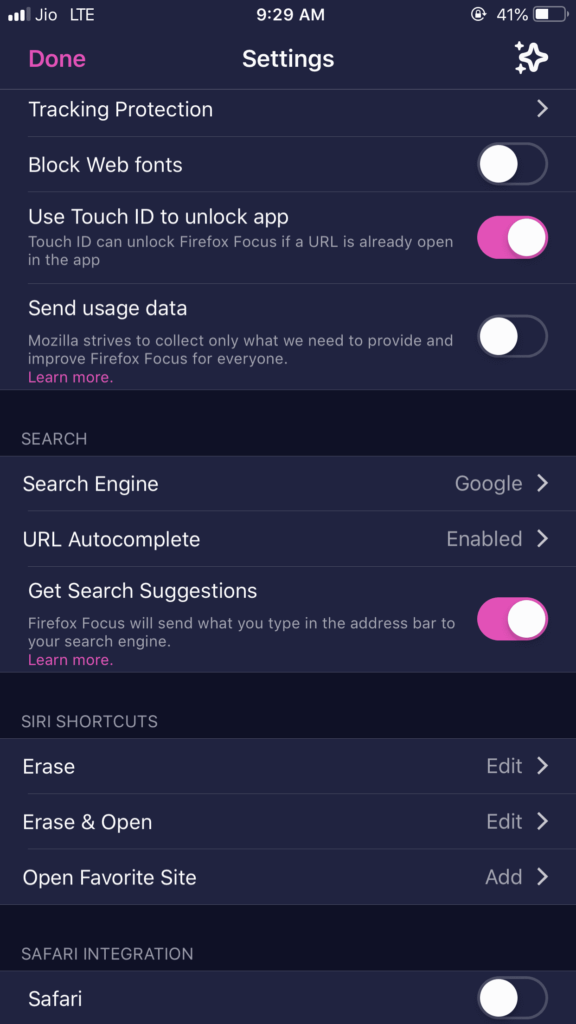 Pro Tip- To get even more privacy from this browser just go to its SETTINGS – SEARCH ENGINE and instead of Google select DuckDuckGo.
Download Firefox Focus for Android
Download Firefox Focus for iOS
4.

OPERA TOUCH

– LOVE HAPTIC FEEDBACK AND SWIPES? WELL THEN THIS BROWSER IS FOR YOU!
Price – Free
Platform – iOS, Android
Highlights:
Very clean and beautiful look.
Voice Search, Dark Theme.
Ad Blocking, Cryptocurrency Mining Protection.
Haptic Feedbacks.
Opera touch is from the makers of Opera Mini. The look of Opera Touch is very clean and beautiful. The round site icons look nice.
With just one right swipe you can send links, images and notes using secure, encrypted and private connection from your phone to your computer (you need to have Opera browser on your computer).
With another left swipe you can easily access your history.
The small round bubble with three lines adds another window to your search world. Tap and hold this icon and you will see your other open tabs, google search, ability to open new tab etc. And every swipe gives a short haptic feedback (even on older iPhones). Even when you pull down to refresh a page, it gives a haptic feedback. It feels very satisfying. However, if you do not like vibrations you have the option to switch it off.
Now you might worry that a circle in middle of the screen will disturb your browsing experience. Well don't worry. Opera has taken care of that. The moment you scroll down the page this small popup disappears. It only reappears when you scroll up.
Opera Touch also supports audio search using its own Opera Voice recognition.
In addition to all the above features Opera Touch has inbuilt support for AD-BLOCKING, CRYPTOCURRENCY MINING PROTECTION, DARK THEME etc.
Overall this is a good browser and you should try it once. I feel you will like it.
Download Opera Touch for Android
Download Opera Touch for iOS
5.

DUCK DUCK GO

BROWSER- PRIVACY SIMPLIFIED.
Price – Free
Platform – iOS, Android, Web, Browser Extensions
Highlights:
Simple and private.
Does not save your browsing history.
Easy one click data and tabs erase.
Touch ID.
If privacy is your main concern and you want to stop yourself from being a Google Product, then DuckDuckGo browser is your answer.
All your searches will be done on DuckDuckGo's own search engine and not Google or Bing. DuckDuckGo does not store your search history.
DuckDuckGo supports Application lock which allows you to lock your browser. It also has one click 'CLEAR TABS AND DATA' option. Using the conveniently located fire icon you can close all open tabs and delete your browsing data with just one easy click. (When you click on this icon the erase icon animation is pretty neat.)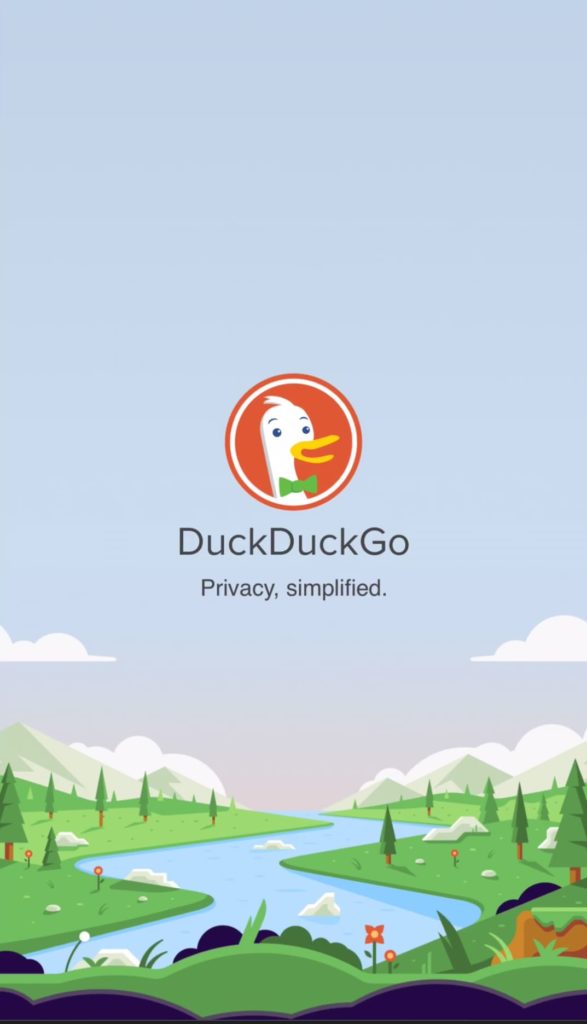 Download DuckDuckGo for Android
Download DuckDuckGo for iOS
6.

SAFARI

BROWSER- CLEAN, CAPABLE, INBUILT.
Price – Pre installed on Apple devices.
Platform – iOS, macOS
Highlights:
Reader Mode and Reading List.
Minimises tracking.
Inbuilt and sufficient for most users.
Whether you love Apple or dislike Apple one thing you would agree is that Apple is very good at whatever it does (if not the best). Safari browser is no exception. (I however dislike that even for basic browser things like clearing history we have to go outside Safari app to Settings app.)
That being said, Safari is a very capable browser. It comes inbuilt, gets the work done and is enough for normal users. This makes Safari the second most popular mobile browser with a market share of over 20%.
Let us look at some features which make Safari better than Chrome.
Now, this is a small feature but people with 3D capable iPhones (6s and above except XR) can relate to it.
When you 3D touch on the Safari icon and touch 'new tab' or 'private tab' then you will find that the moment Safari opens your keyboard is also open and ready to type. If you search web a lot like me, then believe me this one tiny feature makes a lot of difference.
With Chrome you have to click on the search bar for keyboard to show. This is one extra step.
Reader Mode – Reader mode on Safari is extremely simple to turn on. Just click the four lines that you see on the search bar. Reader mode removes all ads and other disturbances. You can even change the background colour, font type and font size in reader mode. It is excellent.
Clean – By default Chrome shows news/articles on its main browser page. Some might appreciate it. I do not. On Safari the browser screen is very clean. You can add your most accessed sites here and quickly open them. It is neat, arranged and handy.
Add to reading list – Bookmarking is great; Safari makes it one step better (Safari also has bookmark feature). With just two touch on your screen you can add any website to your reading list. Reading list is very easy to access and also supports offline saving.
Bonus fun tip– If you limit Adult Websites on your iPhone you will lose the ability to open private tabs in Safari.
(I have been complaining about it since iOS9 but Apple still thinks that private tabs are only for adult content! How naive!)
7.

FIREFOX

– IF GOOGLE IS THE EMPEROR OF BROWSERS, FIREFOX IS THE KING.
Price – Free
Platform – iOS, Android, macOS, Windows, Linux
Highlights:
The most capable alternative to Chrome.
Password lock on saved passwords.
Tracking Protection.
Dark Mode, Automatic theme brightness, SIRI Shortcut, Reader Mode.
Load webpage without images.
And almost everything else that Chrome does.
Firefox is a very underrated browser. Let us talk about some of the great features of Firefox mobile browser.
Firefox allows you to OPEN COPIED LINKS. Whenever you copy some link and then open Firefox browser it will offer you to open that link in one click. No need to paste or hit search. (You will have to turn on this feature in Firefox settings.)
If you are on a very slow network or on a website that has lots of image ads, you can turn on 'Hide Images'. This will just load the texts and not images.
Firefox also allows you to set a password on 'login and passwords page' which stores your website passwords. So suppose you hand over your phone to someone to browse the internet and if you have this password set (which is different from your iPhone's password) that person can not see your website passwords that are synced and saved in the browser. Pretty secure!
On the private side Firefox allows you to enable different levels of Tracking Protection and also allows you to automatically close all private tabs when you switch to normal mode.
Other useful Firefox features include SIRI shortcut to Open New Tab, dark mode and automatically setting the theme brightness according to your phone's screen brightness.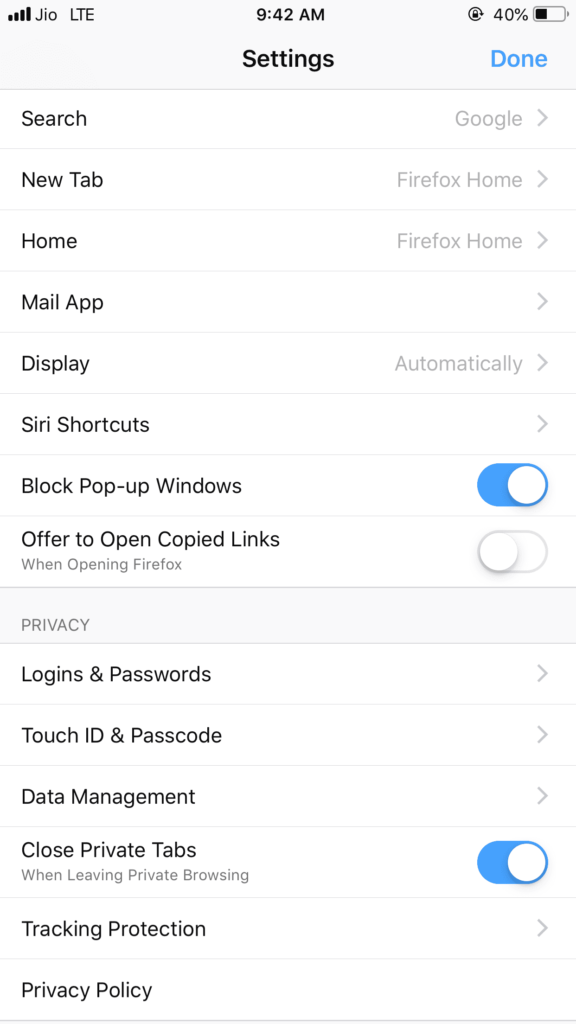 Download Firefox for Android
Download Firefox for iOS
So these were 7 great alternatives to Google Chrome.
Other honourable mentions are Edge from Microsoft and Brave (great browser that is fast and also shows how many ads it has blocked and how much time it has saved you etc.)
If you are on Android one amazing Google Chrome alternative is KIWI Browser. It is built on Chromium. (Chrome is built on Chromium too) It is a great browser and you should definitely try it.
Now except Firefox Focus (which does not allow multiple tabs) any of the above mentioned browser is capable to be your main and only browser. All these great apps have all the basic features that most of us need and use in a browser.
However there is no rule that you should use only one browser. You can have multiple browsers on your phone and use them for their specific features when needed.
Personally I would recommend that you download all the browsers whose features while reading made you think 'I need this browser' or 'This seems helpful for me'. Try them, see which ones you like and keep the ones you need.
If you know some other good alternative for Google Chrome please do mention that in comments. I would love to check that out.