Before I begin talking about AirPods and why I love them and dislike them; I would very quickly like to share my personal experience which led me to buy them. You may skip this part.
WHY I AM THANKFUL TO ONEPLUS FOR MY APPLE AIRPODS?
In May 2018 One Plus announced wireless earphones (bought separately) with its One Plus 6 smartphone.
It had fast charging and magnetic media controls. (more on this later)
I watch launch events and keynotes of many innovative companies like Samsung, Apple, Microsoft and Google. This year I watched the One Plus 6 event.
I am well into the Apple orchard since 2014 when I got my own MacBook Pro (mid 2012, non retina). I had been accustomed to macOS (then called OSX) since 2013. One of my flat mates had a MacBook Pro. Later in first quarter of 2015 I got an iPad Air and a month later I got an iPod Shuffle and in first week of August 2016 I had an iPhone 6s Plus (which I love using till date)
Despite having a slightly soft feeling that Apple makes the best products; watching One Plus talking about its innovative fast charge and USB C charging on the Bullets Wireless interested me a-lot.
Bullets Wireless had magnets which easily attached together to pause the music* or not dangle loose when it is not plugged in the ears.
*Automatic pause play works only with One Plus phones – 5T and higher.
It was interesting!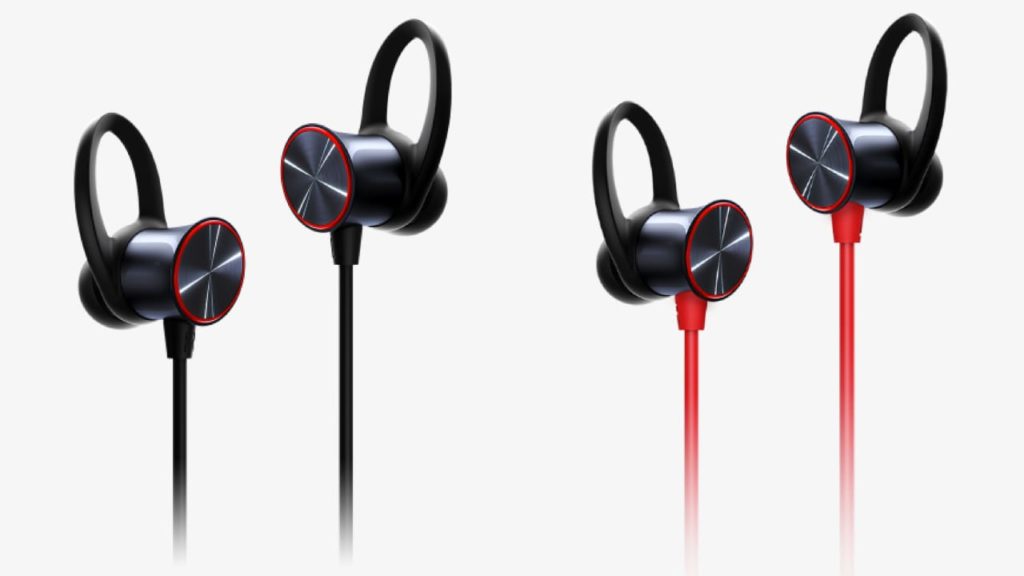 Next the company claimed exceptionally good battery life. By 10 minute charge it promised 5 hours of listening time. Neat! A full charge promised listening time of 8 hours. For a wireless earphone so small, it sounded pretty impressive. Now all I wanted to know was when will this go on sale in India.
I started following news about Bullets Wireless closely. Finally it was announced that on 19th June 2018 at 12 noon these earphones would go on sale at the official One Plus India site and Amazon India.
I created a One Plus account and was ready with payment details etc.
I knew that since this is a sale I had to make the payment in a jiffy and complete my purchase under a minute. I had already saved my address etc.
The clock on my laptop turned 12:00, I clicked checkout and Bullets Wireless was Out Of Stock!
I was angry!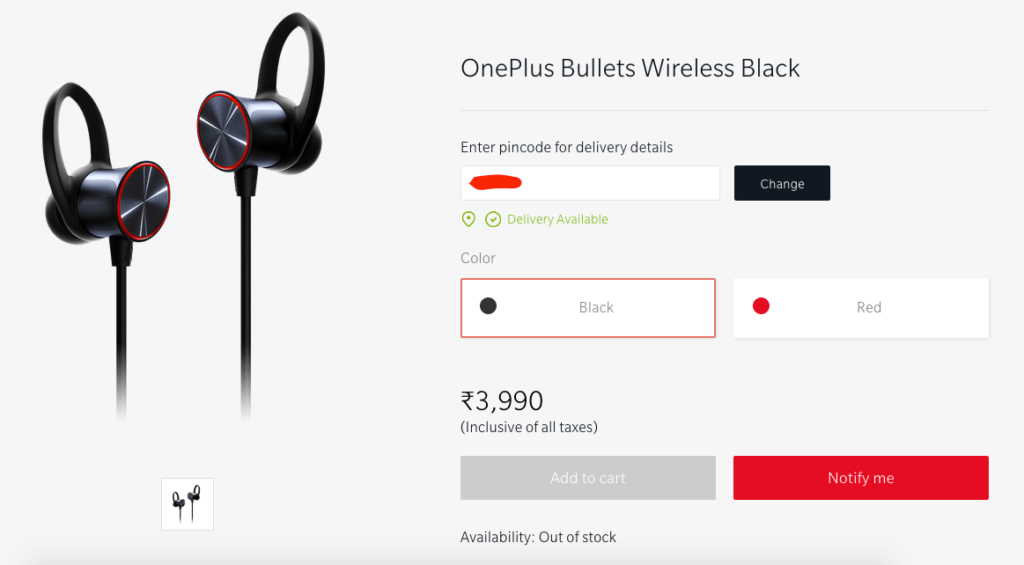 Later company's product manager Szymon Kopec revealed the earphones sold out in 40 seconds! He did not say how many units were up for sale or any other detail.
Then I realised, maybe, this was just a sham promotional activity by One Plus to create a market of hyped air or by measuring traffic on its website — estimate the number of people interested in their wireless earphones. Whatever the motive behind this flash sale was are best known to One Plus India.
(Companies like Xiaomi with its flash sales, Paytm with its Re. 1 sale have been know to resort to such tricks to create hype and interest.)
WHAT I WANT IN WIRELESS EARPHONES?
Whenever I look for bluetooth earphones my number one priority is battery life followed by decent sound quality which is followed by portability.
Also, I prefer small earphones over big headphones (big headphones obviously have better sound when compared.)
Bullets Wireless promised on paper and in their launch presentation that it was small, portable and had good battery life. Price in India at rupees 3,999 also seemed justified.
I further waited few months to buy them. Sadly I could not.
In early September 2018, I made up my mind that if Apple does not releases newer version of AirPods with its new iPhones (XS) then I would buy the first generation AirPods as they were on discount. Apple September keynote ended with new iPhone launches. Nothing was talked about AirPods.
AirPods ticked all my requirements except price!
Surprisingly, in October, during Flipkart's sale, I was able to buy Apple AirPods on discount for ₹7900 only. (MRP is 12,990)

UNBOXING AIRPODS AND FIRST IMPRESSIONS!
When I first opened the box, I was happy about the extremely small size of the charging cum carrying case. I was happy that it could easily fit in coin pocket of my jeans. Some part of me was also worried about its sound quality. Online reviews for its sound quality were mixed to negative*. Every reviewer said that they sound just like Apple EarPods that is provided in box with every iPhone.
*Sound is good when compared to size.
When I opened the case, it felt good. It had magnetic lid. Paring animation with iPhone was great. It (and subsequent pairings) would have been better and intuitive if I had iPhone 7 or higher because these iPhones have Apple's W1 wireless chips which is also inside AirPods which help them connect magically without diving repeatedly into Settings menu.
Anyways, once I connected it with my iPhone, I was able to connect them automatically with my MacBook and iPad as all are signed in with same Apple ID.
For me, sound quality was good, just like Apple EarPods.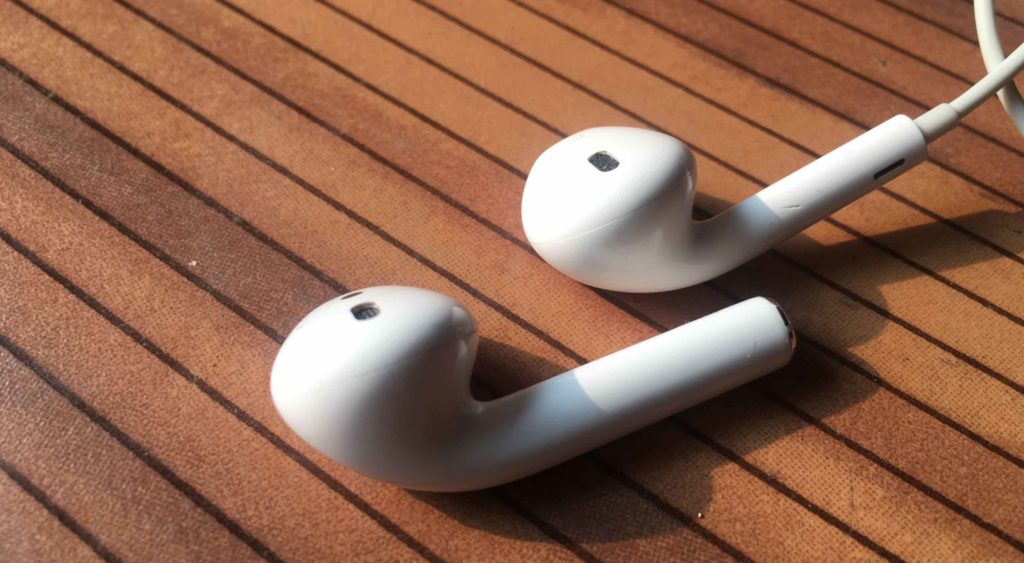 SENSORS ON AIRPODS
The automatic pause play by ear detection works great with iPhone's / iPad's own music app and works good with third party apps like Gaana, JioMusic or YouTube. When you are listening something and if you pull either of the AirPods out from your ear the music stops playing and automatically resumes when you put the AirPod back in your ear without you having to touch your device. Neat!
However on MacBook this feature is limited to iTunes playback and media playback by Safari. Even on these applications it is hit or miss at times. In simple words this cool feature is not at all reliable on my old MacBook Pro.
If needed you can turn off automatic detection in AirPods Settings. (though it is advised not to, to save battery)

GESTURE CONTROLS ON AIRPODS
EarPods has a handy remote control with three buttons which can perform useful tricks. They can Pause/Play, switch to Next Track/Previous Track, change Volume, work as Camera Shutter button, summon SIRI, receive or hang up calls etc.
AirPods can do most of the things mentioned above. But there is a catch. It can not do everything always. Why?
AirPods (both Left and Right) just have one type of control and that is DOUBLE TAP.
Good thing is you can configure double tap for different actions on left and right AirPods.
So you can do two things by these double tap gestures. I have configured 'Play Next Track' on right AirPod when I double tap it. On left AirPod I have configured double tap to launch SIRI.
EARPODS:
So at one given time, wired Apple EarPods can do six basic operations —
1- Play / Pause (single click of middle button)
2- Next Track (double click of middle button)
3- Previous Track (triple click of middle button)
4- SIRI (long press of middle button)
5- Receive / Hang calls (single click of middle button)
6- Change Volume (by using +, – volume buttons)

AIRPODS:
AirPods on the other hand can do 5 operations from the above six —
1- Play / Pause (by automatic ear detection. Remove either AirPods from the ear and media playback pauses. It resumes when AirPod is put back in the ear.)
2- Next Track (double tap on the AirPod you have configured)
3- Previous Track (double tap on the AirPod you have configured)
4- SIRI (double tap on the AirPod you have configured)
Out of the above three operations (point 2,3,4) , at a given time, any two of the operations can be configured on AirPods — one operation each on left and right AirPods.
5- Receive / Hang calls (Double tap on any AirPod when a call is received. Later double tap on any AirPod to hang up the call.)

AirPods can not change volume. This is one feature that I want the most.
Until then you can ask SIRI on AirPods to change volume to 70%, full volume, 50% or any percentage you want.
In next AirPods firmware update Apple should find a way to allow volume controls on AirPods (without using SIRI)
Click To Tweet
POSITIVES ABOUT AIRPODS
Now let us talk about the good stuff.
1- CHARGING PROCESS IS A DREAM!
With AirPods, never have I ever felt that I own a wireless product that I have to remember to charge.
Battery backup has been excellent so far. This has to. The product is new!
I get 4+ hours of battery life on single charge at almost full volume. It takes just 5 to 10 minutes of charging time inside case and then as Apple claims it can work for 3 hours.
I do not think there is any wireless earphone that has such a great charging experience. I have seen similar concepts' earphones by Bose and Jabra but they are big and not as sleek and easy as AirPods.
AirPods charging process is a beautiful wish made possible! (After wireless charging case (if Apple ever launches) the whole process will actually be magical.)
Click To Tweet
My Story of how I use AirPods.
I am watching something for 2-3 hours or working on desk with AirPods in my ear.
It is dinner time.
I just put these back in the case. (which due to magnets feel snappy and incredible)
I return after dinner in 15 minutes and here are my AirPods with 100% battery.
I never have the need to reach for a cable or charger or look for an empty charging plug.
With One Plus bullets or any other wireless headphone, I would have had to find a cable, a charger, an empty wall outlet whenever I needed to charge it. All this would make me charge the Bullets Wireless only when needed and at times I would have less battery on them. But with AirPods they are always at 100% when I start working with them. Pull them out of the tiny case and I am good to go for next 4/5 hours.
(But I do not sit for that long in one stretch so my AirPods are charged after 2,3 hours of use or when they have around 35% or 45% battery still left.)
2- GOOD FIT
I am able to use them easily in metro trains and almost everywhere. I can not comment on other person's fit but AirPods fit great in my ears (and also in many YouTube reviewer's ears)
I am confident enough to use them even in toilets. (But keep in mind that AirPods are not water resistant!)
Click To Tweet
3- SIZE
The extremely small size (and weight) of the case and the light weight of AirPods make these absolutely easy to put inside any pocket or use it for long period of time without any problem.
4- BUILD QUALITY
One thing that Apple has mastered with all its products is build quality. iPhones, MacBooks, Macs, iPads and all Apple products have the best in class hardware build quality. AirPods is no different. The case is sturdy and does not create even slightest curve when reasonably pressed. The AirPods too have great build quality. The magnetic lid feels neat. The magnetic force felt when putting the AirPods back in case is pleasing. The lightning cable provided with AirPods is the same as ones provided with iPhones and other Apple products.
5- GESTURES AND AUTOMATIC PLAY/PAUSE
In this very article I have complained about AirPods sensors and gestures. But for a device this size, it is great to have these functionality. It takes getting used to, to hit the correct spot on the AirPods to activate the set commands, but once you get used to, it is handy. Ear Detection (media play/pause) is wonderful to have (works well on iOS devices.)
Some other features worth mentioning is – playing sound on AirPods by Find My iPhone app if you have misplaced your AirPods. This however works only when AirPods are connected and thus nearby like in the room or nearby sofa. This won't help you find AirPods if they are stolen or not connected to any Apple Device.
Other good thing is that AirPods work just like normal wireless earphones with other Bluetooth enabled devices like Android Phones/tablets etc. Just open the AirPods case lid (with both AirPods inside the case) and press the Bluetooth button in back side of the case for 8-10 seconds. You will see AirPods as an available device under Bluetooth settings of your Android phone / other Bluetooth capable device. Click on AirPods to connect both the devices.
PROBLEMS WITH AIRPODS!
Everything magical about AirPods have been said.
Let me talk about some issues now. Many of these issues are nitpicking but if you are spending 10,000 rupees on an earphone that sounds okay, then I think you have the right to know everything about it.
1- DIRT MAGNET
The joints of AirPods are bigger or have more gaps / irregular crevices than EarPods. My AirPods catch thicker line of dirt than EarPods. See the picture to understand what I am saying.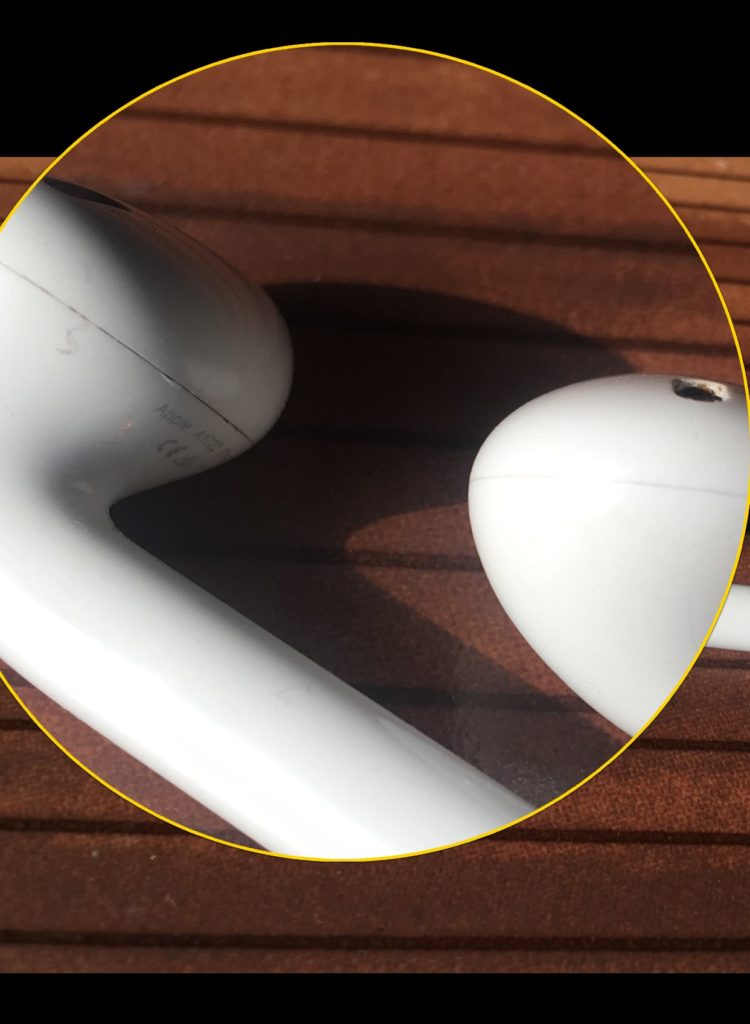 Also in near future it would be a pain if dust gets inside the charging case.
The physical connect button on charging case has collected dirt since day one in its gaps, despite me taking great care and living on tenth floor which has less dust and dirt.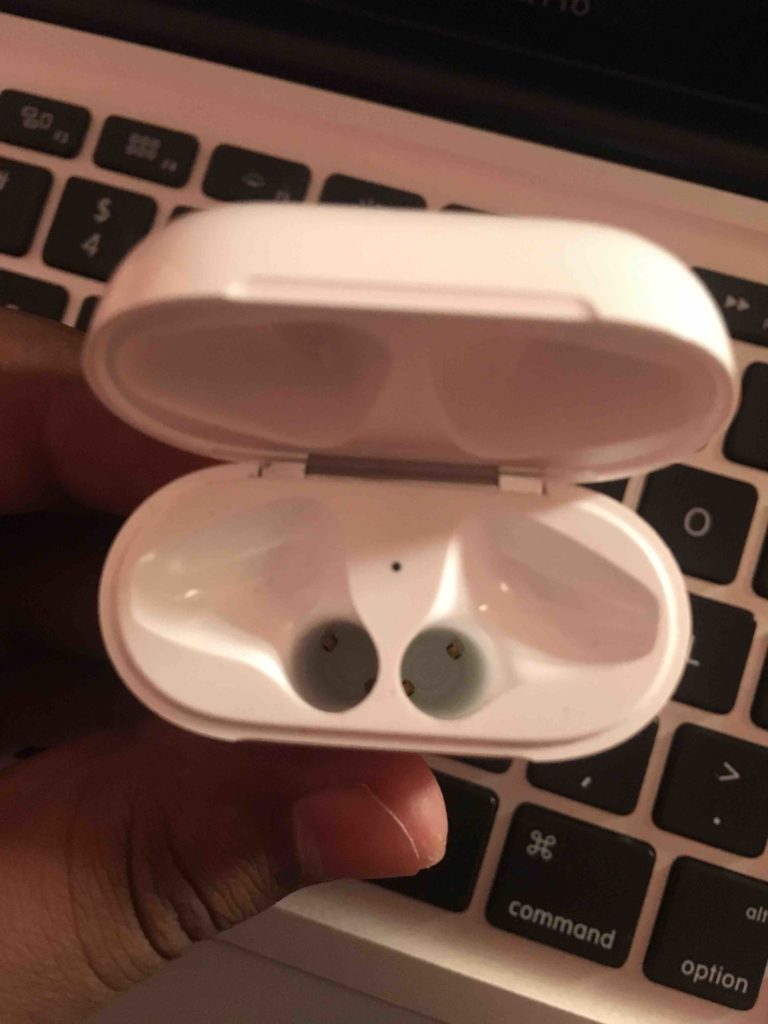 2- WOOBLY LID
The lid of my AirPods is a little wobbly. It has a movement of half millimetre in left and right direction. It also makes kut kut noise if moved. I have not touched any other AirPods' case, so I can not comment on this. Apple chat support says this is okay.
3- PATHETIC TOUCH / TAP SENSORS
Touch / Tap sensors are pathetic. It fails 35% of the times. I have to tap multiple times or tap repeatedly with great force. It looks and feels insane. Vigorously beating your ear with one finger in a metro train! Imagine this!
This is nothing like what Apple shows you in AirPods' videos. (However with more and more use, the fail tap percentage is decreasing.)
Update – After using AirPods for one month and using it in metros, public transport and elsewhere, I can conclude that tap sensors work well. It required some getting used to. Now I can tap at the perfect place for the sensor to work almost 90% of the times.
4- DIFFERENT MODEL NUMBERS FOR SAME PRODUCT!
The model number inside the lid of the charging case and what is shown on the connected iPhone under Settings → General → About → AirPods are different.
Inside the lid it says A1602 however on iPhone it says A1523.
However Serial Number shown at both places are same.
(Apple Support on Chat and Twitter as well as Apple Service centre declined to comment on this or just changed the topic. Anyone knowing about this please leave a comment. Thanks.)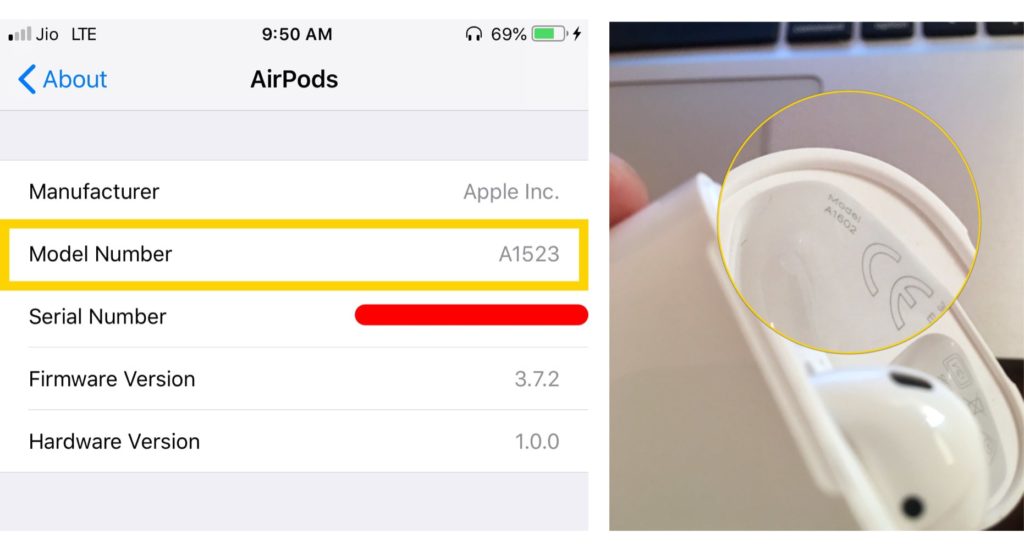 5- ACTIVATED BEFORE PURCHASE!
I bought my AirPods on 11th October and received and activated it for the first time on 15th October. However when Apple Service Centre in Connaught Place, New Delhi checked, my AirPods were already activated in September 2018!
I then updated the details on checkcoverage.apple.com and fixed the purchase date.
6- IRREGULAR BATTERY DRAIN ON LEFT AND RIGHT AIRPODS.
Many times I see that my right AirPod has less battery than the left AirPod. I have failed to understand why this is when I always use them together. Maybe it has something to do with me being a righty and pulling out the right earpiece most of the times when I want to pause the music. This needs the sensors on right AirPod to do more work and thus draining more battery than the left AirPod.
At times the battery difference between both the AirPods is more than 10% despite both being used together.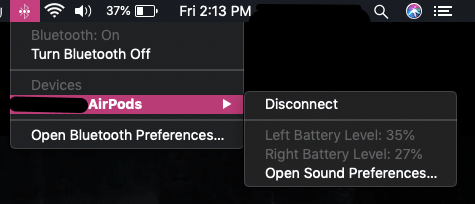 7- 

SOUND QUALITY WILL DECREASE AFTER 10-12 MONTHS!
I can guarantee you this! Why and how am I so confident! Well, hear me out.
I have been using Apple EarPods (my PG roommate's) since 2014 (when I bought my MacBook)
I bought my personal EarPods in February 2015, from an Apple Authorised store in Delhi NCR — FutureWorld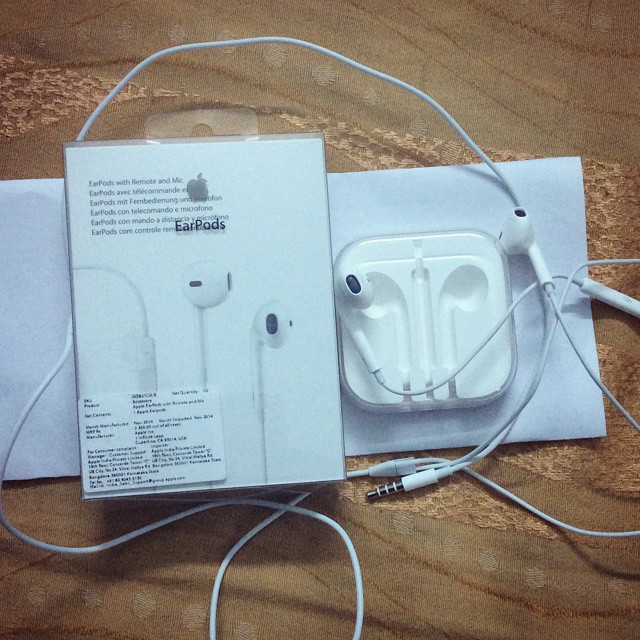 Initially the sound of EarPods is great but after some months the sound level decreases a lot. If that happens then one way to get good sound is by using EarPods like this. (See the picture below.) I know this is the right way to use earphones but most of us use it in simple ways like just putting it inside the ear without twisting or turning it and the wires.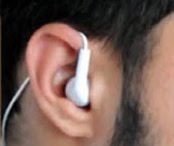 (If EarPods' sound level decreases over time, start using it this way. You will get better sound! I have experienced this! Source: YouTube, CBX Studio)
After my initial set of EarPods —
I regularly used new EarPods of my elder cousin brother's iPhone.
Later on I used EarPods that came with my iPhone 6s Plus.
Since December 2017 I am using EarPods that came in with my bhabhi's iPhone (my cousin brother's wife's iPhone).
All the above EarPods decreased in sound output level after 8-10 months!
By using the above EarPods I do mean using it extensively. Also, I never used EarPods with any other device except iPhone, iPad, MacBook and occasionally on iPod Shuffle.
Each one the the four EarPods had their sound level permanently decrease to a tremendously low level after 8-10 moths. Each one of them!
So,
One set of EarPods I had bought at Apple Store in 2014.
One set of EarPods came with my brother's iPhone 6s in late 2015.
One set of EarPods came with my iPhone 6s Plus in August 2016 and the last EarPods that I used (and currently use) came with my Bhabhi's iPhone 6 in 2017! (when iPhone 6 prices went really low.)
So you can see that all the EarPods were manufactured at different times and came with different models of iPhones (or bought separately); still each one of them lost their sound quality after regular use. I also have to make a point that none of them stopped working completely ever. It was just that their sound level decreased drastically. (And please do not think that I enabled 'Sound Check' or 'Volume Limit' or used 'EQ' on any of my devices. I never use these.)
I HAVE A SIMILAR FEAR THAT MAYBE AFTER 8 OR 10 MONTHS THE SOUND LEVEL OF AIRPODS WOULD ALSO DECREASE!
8-

CONNECTIVITY ISSUES OF AIRPODS!
AirPods work great with my iOS devices but the story is entirely different with my MacBook Pro (mid 2012, non-retina)
Within one day of buying AirPods I complained to Apple Support but they could do nothing.
Click To Tweet
The issue with AirPods and my MacBook is that they misbehave. In middle of the music or movie playback or YouTube on MacBook, the AirPods would stop playing for 1-10 seconds without pausing the media or outputting sound through internal MacBook speakers.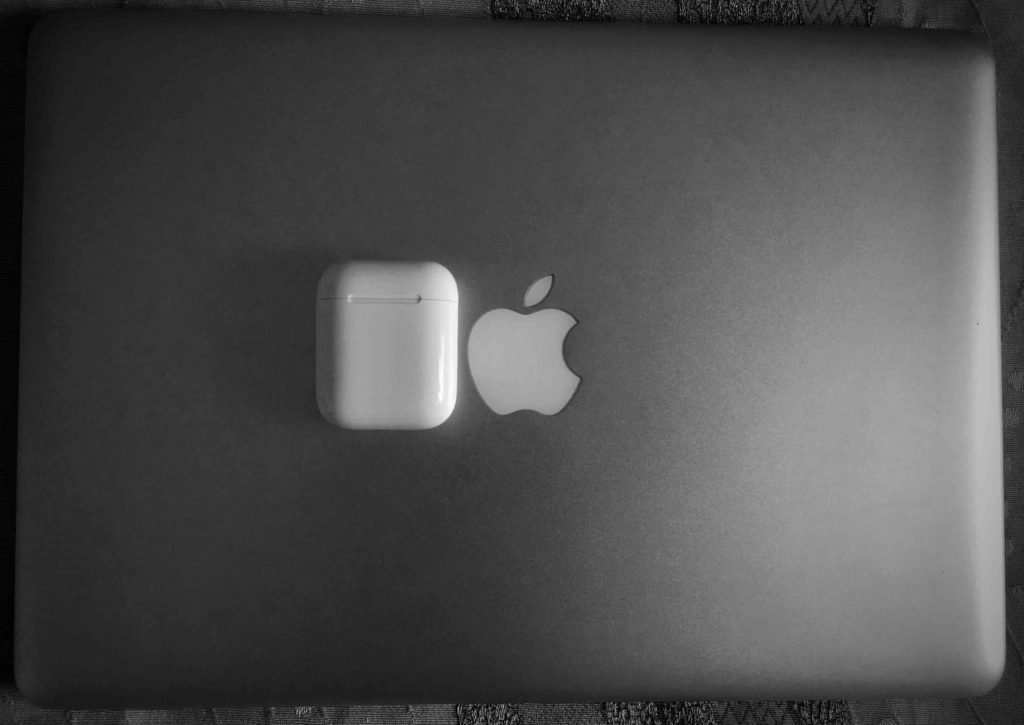 If I am lying on bed and watching movie with MacBook on my knees and AirPods connected; even if I move a bit on bed or change my resting position the AirPods makes a screeching noise. It is a torture for the ears. It can even damage my ears. So with MacBook I always use it at max 70% volume.
This happens with all media played in any app or browser.
This is sheer torture. Many times in frustration I have hit the back on my MacBook with force!
I complained about this to Apple on their Twitter handle, then thrice on their Chat Support. They tried their best to help me sitting thousand miles away they could do nothing.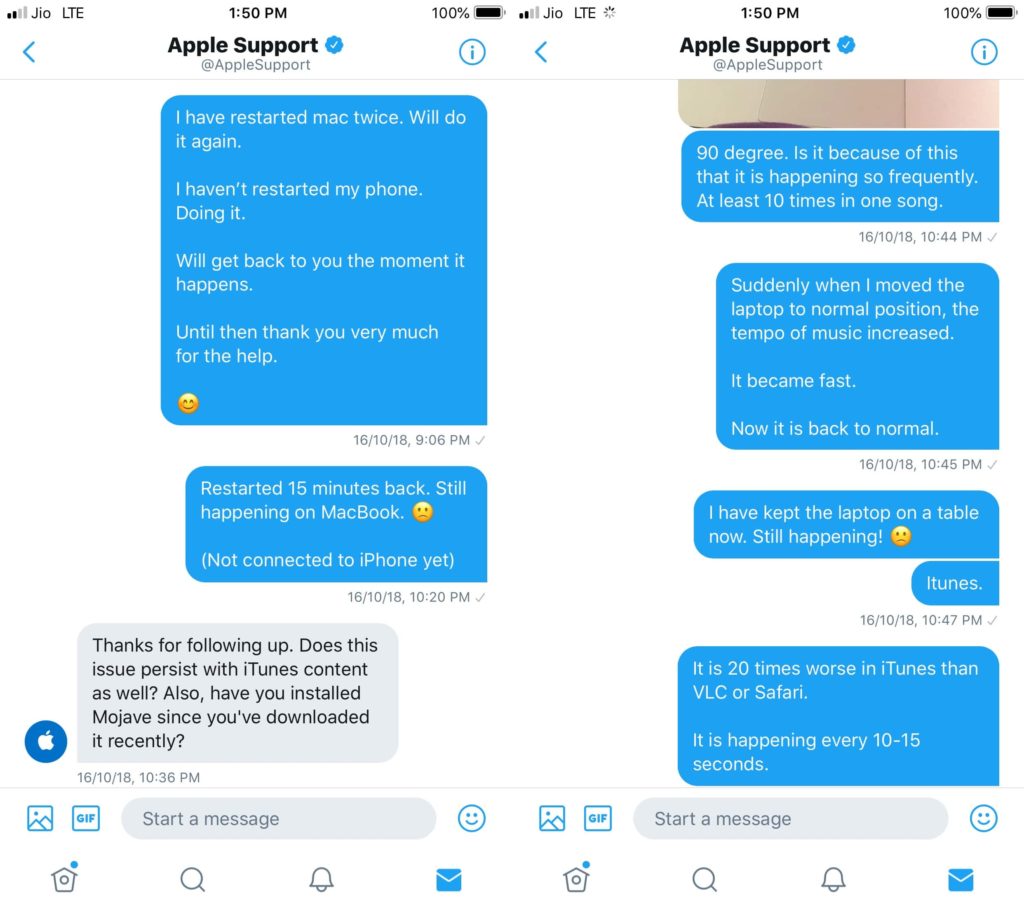 I read numerous articles. Following one of the articles, I reset the AirPods (by holding the button on case for 15+ seconds and paring my devices again)
I removed AirPods from my MacBook and reconnected it using normal process by pressing the button on the AirPods' case (like i would have done with any other bluetooth device.) (Using similar process you can use AirPods with Android phones or other bluetooth enabled devices.)
I looked online for articles if my AirPods needed firmware update. But every article suggested that firmware (3.7.2 ) on my AirPods are the latest.
Nothing helped!
I contacted Flipkart and asked for an exchange. They said to contact Apple Service Centre as these products are not returnable or exchangeable. I will have to contact the official support centre.
Apple Chat support had already created a case ID and asked me to visit an Apple Service Centre.
I went to FutureWorld, N9, Connaught Place, New Delhi.
Nothing helped again!
Apple Service Centre at first were un-eager and not interested in my case as they could not understand my problem but when I persisted they submitted my device (AirPods) and said it will take 4-7 days. They said they will perform a diagnosis of the AirPods. They also said that they will call me once they have an update.
On second day I called them to inquire. They said that my AirPods are fine and there is no problem in these.
Extra Read – I got confused by the word 'diagnostics'. Many times in past my iPhone and MacBook have been diagnosed, but I did not know whether this was possible with AirPods. So I asked Apple Support.
Interestingly Apple Support said that AirPods are not diagnosable. Though service centre can check/test the device and the issue and by diagnosis they meant discovering the issue.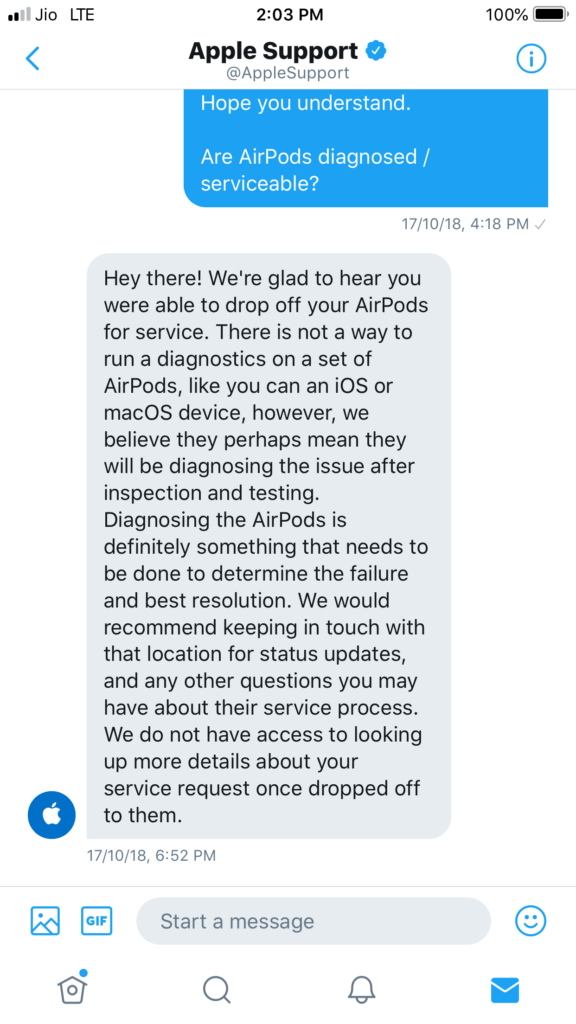 I could not prove my case further because this connection issue and screeching noise is extremely random. Sometimes it happens 5 times in one 4 minute song, sometimes it happens once in an hour.
And it happens only with my MacBook Pro. With my iPhone, I have faced this issue only twice. (This too was for half a second.) I do not use iPad much so I can not comment on that, but AirPods seem to work fine with iPad. Also the connectivity range with MacBook Pro is extremely small as compared to iPhone.
(If my AirPods are connected with my iPhone 6s Plus kept on my bed, I can roam freely in my kitchen, living room and even other room's washroom without any connection issues!
But if AirPods are connected to my MacBook Pro (mid 2012) kept on the same bed, I can not leave my bedroom. The moment I reach its door, AirPods start losing connection!)
Summing Up,
As of now it has been 15 days since I bought AirPods. It is working fine with iOS devices but with MacBook I have to take precautions like —
1- Not placing the MacBook anywhere else except desk.
2- Not using AirPods and MacBook at volume more than 80% ever.
3- Not bringing my arm or hands near the AirPods when it is connected to MacBook.
4- Avoid using MacBook and AirPods lying on bed.
5- Try to fidget as less as possible when using MacBook and AirPods on bed.
6- Make sure not to cover left side of MacBook (side with ports etc) by palm.
WHAT IS THE ISSUE WITH AIRPODS? (WHAT I THINK)
1- Maybe bluetooth on my MacBook is at fault. (But I have had no problem of any kind connecting JBL Go with my MacBook)
2- Maybe there are some software issues in macOS Mojave.
3- Maybe the sensors on the AirPods are extremely responsive when connected with my MacBook. That is why they register even arm coming near my ears as tap or something.
4- Maybe AirPods need firmware update by Apple to fix connection issues with old MacBooks or phones without W1 chip.
5- Maybe my MacBook is at fault. (I do not think I have changed any setting etc. This is because in September this year, I swapped the hard disk on my MacBook with SSD and installed a fresh copy of macOS. I set up my laptop as new and changed only few setting that I needed to like enabling 3 finger drag etc. Rest almost all settings on my MacBook are as default.)
6- Maybe AirPods are faulty but Apple Service Centre are unaware or negligent of this!
(Believe me the man at Apple service centre was clueless about what to do with my AirPods! Maybe Apple does not sell a lot of AirPods in India and thus service centres have seen very few AirPods issues!)
ONE THING THAT I WANT ON NEXT AIRPODS FIRMWARE UPDATE!
Apart from fixing above issues (if possible) in the next firmware update, I would like to see volume control on AirPods. This is the thing I need most for controls on AirPods!
AirPods should have volume controls!
Click To Tweet
CONCLUSION / HOW I USE AIRPODS NOW?
I use them normally like I would do. It works fine with my iPhone. I take the above mentioned precautions while using it with MacBook Pro.
It is a bit of a gamble to buy less known products from any brand even if it is trillion dollar Apple. It is scary because even the service centre is clueless* or hesitant to fix such devices which sell less or are unrepairable.
It has 1 year warranty. If I face any sound issue or any other connectivity issue I will dump it at their service centre!
Apart from this there is not much that I can do!
VERDICT…
So, coming back to the title of my first paragraph — "Why I am thankful to One Plus for my Apple AirPods?" — Despite the above mentioned issues, I am enjoying using my AirPods. I can sleep with resting on my either ear (or ear on palm) with AirPods in my ears. I can not do so with any wireless headphone. The portability, the wonderful charging mechanism and excellent battery life overshadows the few drawbacks! Sound is also fine**. Overall, AirPods for ₹8,000 is a great product; at least for me and my preferences!
---

---
Notes-
I began writing this article on 31st October after having used AirPods for 15 days. 80% of the article was written by 1st November. Rest has been written today. Most screenshots used in this article are also from today. (10th November 2018)
All pictures used in this post are clicked by the author (me) or are screenshots of my devices. Few pictures taken from elsewhere have source mentioned below the picture itself in caption.
*(See this Linus Tech Tips video about five thousand dollar iMac Pro which is a desktop computer targeted for professionals.)
**But if sound is your ONLY main concern then I would recommend following Sennheiser headphones which are priced same as AirPods. (during online sales)

1- Sennheiser HD 4.50 SE (Special Edition) BT NC Bluetooth Wireless Noise Cancellation Headphone.
During any sale on Amazon India or Flipkart, the price of these headphones fall from ₹14,990 to  approximately ₹7,000.
The Sennheiser HD 4.50 BT NC Bluetooth Wireless Headphones (Black/Silver) with Active Noise Cancellation is priced at  ₹14,990 and in sale it falls back to  ₹12,000.
But Sennheiser pushes you to buy special edition of these headphones during sale and thus though both normal HD 4.50 and Special Edition HD 4.50 are originally priced at  ₹14,990 but in sale the price of Special Edition (SE) is slashed by 50%.
(According to me the difference in both is just of Noise Cancellation. One has Active Noise Cancellation while the Special Edition has just plain Noise Cancellation. You might want to read people's reviews and research a bit more. However both these headphones have positive reviews!) 
2- Sennheiser HD 4.40-BT Bluetooth Headphones (Black)
The original price of these headphones are ₹7,490 but in every online sale I have seen its price fall down to approximately ₹3,800.
---
NEXT RELATED MUST READS:
Why is Apple unsuccessful in India?