There are multiple reasons why T-Series is the most subscribed YouTube channel. Several videos on YouTube talk regarding this, but the fact is none of them handle the bases very well. Most of these comparison videos are by non-Indian YouTubers who try their best and are successful in explaining the situation only to an extent.
Every such comparison video starts well by mentioning facts about T-Series' foundation and the assassination of its founder, but these videos fail to provide an apparent reason why T-Series is rising so rapidly.
And this is not the fault of the YouTubers making those videos. Sitting 10000 kilometers away from India, the only source for their data is the internet. Despite this geographical limitation, some of the videos are very well made.
I, an Indian, have tried my best to touch all points. Let us start with a small beginning.
There are appropriate headings. You may skip any section you are not interested in, but if you want to get the clear picture and also know a bit more about India, then I would recommend you not to skip any section.
In between, I have mentioned some fun facts and extra read just to share some knowledge.
Why T-Series Grows So Quickly
Mega Music Company vs. PewDiePie
BEGINNING OF T-SERIES
Shri Gulshan Kumar started T-Series in 1983. Shri is a salutation prefix that Hindi speaking Indians use before a male name; just like Mr.
It began as a cheap destination for pirated Bollywood songs. In 1984 T-Series released its first ORIGINAL soundtrack. In 1990 T-Series gained massive popularity with the release of the soundtrack of a very successful romantic film Aashiqui. The word Aashiqui means ROMANCE.
The film received widespread love from the audience and was hugely successful. The music of this Bollywood feature film was even more successful and sold 20 million copies. To date, this is regarded as the best selling Bollywood album of all time. The songs of Aashiqui are still some of the most loved romantic songs played in India on radios, FM, public places, etc.
ASSASSINATION OF T-SERIES FOUNDER
In 1997, Gulshan Kumar was assassinated by D-Company — the group which was accused of 1993 Bombay (Mumbai) bombings. In 2011, D-Company was placed third on the list of FBI's WORLD'S 10 MOST WANTED FUGITIVES.
After Gulshan Kumar's death T-Series has been managed by his younger brother Krishan Kumar (not so successful actor, acting in only five films from 1993 to 2000 and they were either directed or produced by family members / T-Series) and Gulshan Kumar's son Bhushan Kumar (film and music producer and composer)
Currently T-Series produces films as well as music under T-Series Films and T-Series Music or just T-Series. They are highly successful in both these relatable ventures.
Click To Tweet
T-SERIES ON YOUTUBE
The official T-Series YouTube 'About' section says that they joined YouTube on 13th March 2006.
However, the oldest video of T-Series dates to 23rd December 2010. So it can be said that they did not upload for the first 4-5 years on YouTube or just simply deleted videos uploaded between 2006 to 2011 (deleting video makes no sense, but it can be a possibility.)
PewDiePie joined YouTube on 29th April 2010, and his oldest video dates back to 2nd October 2010.
So we can say that PewDiePie started uploading to YouTube about 3 Months before T-Series.
SOME MYTHS THAT ARE MAKING ROUNDS ON INTERNET ABOUT T-SERIES
A. AUTOMATIC SUBSCRIPTION
NO, people making new YouTube accounts in India do not automatically get subscribed to T-Series. This is just some malice spread initially on Reddit, and subsequently, it spread on YouTube.
Click To Tweet
I have checked this four times by making new YouTube (Google) accounts using an iPhone and signing in to YouTube app for the first time, using an Android phone and signing in to YouTube app for the first time, using YouTube on Bluestacks and signing in to YouTube app for the first time and making new YouTube account and signing to YouTube for the first time on a browser.
Never was I automatically subscribed to T-Series or any channel for that matter. This is absurd that people are buying this fake news.
But yes at times for new and not logged in users, videos from T-Series and the T-Series channel are recommended on the YouTube homescreen. But then in India, YouTube puts popular, catchy semi-nude thumbnailed videos from other big Indian channels like Set Max, etc. and music videos from Rihanna Vevo or fun videos from Dude Perfect on their homepage too.
YouTube recommends these to new and not logged in users according to its algorithms. T-series automatically getting subscribers is just a myth spread by some people and surprisingly bought by even celebrity YouTubers!
B. BOTS
I do not believe that T-Series buys or engages in bot activities to increase its subscriber number. They aren't some small creator who will remain unseen by YouTube doing these!
Click To Tweet
A channel so big and elite will be punished instantly by YouTube if they do something so sinister according to YouTube's terms and conditions. YouTube would not keep mum and set any wrong precedent.
READ THE COMMENT SECTION BELOW THIS ARTICLE FOR AN IMPORTANT EXPLANATION REGARDING BOTS.
When YouTube was down for a few hours, SocialBlade tweeted, "Interesting.. YouTube is down worldwide, but T-Series is still getting subscribers."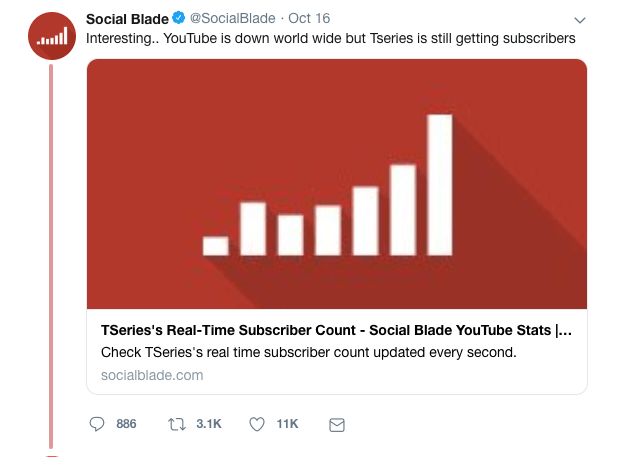 Few Indian people also saw the T-Series channel and the subscribe option. (This was because by that time YouTube was already working in India and it was down in India just for a few minutes.)
YouTube further replied that this is normal that the number of subscribers fluctuates during such times and even normally. YouTube replied that this fluctuation in subscriber number is normal.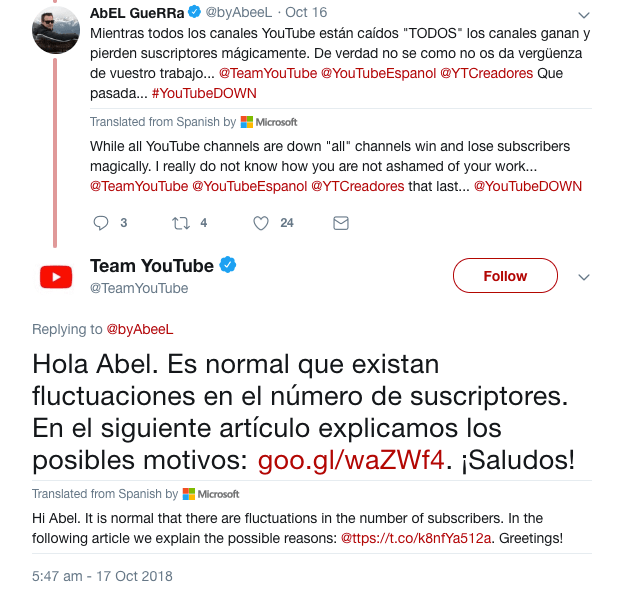 It is interesting that despite SocialBlade working with YouTube for long, were unaware of this fact.
T-SERIES AND PEWDIEPIE YOUTUBE STATS
Please Note,
i- "~" means approximately.
ii- More than the numbers focus on what is written in orange, as the number of subscribers and views etc. will change every second, but what is written in orange would have little change in the near future.
SOME STATS AS OF 26th OCTOBER 2018, 1:20 PM [IST]
Number of Subscribers
T-Series – 67,201,343
PewDiePie – 67,363,768
Total Videos on each channel
T-Series – 12,772
PewDiePie – 3,639
T-Series has uploaded 3.5 times more than PewDiePie.
Total Channel Views
T-Series – 51,530,745,187 views (51 billion views)
PewDiePie – 18,965,916,790 views (18 billion views)
T-Series has 2.71 times more views than PewDiePie.
T-Series has uploaded 3.5 times more than PewDiePie. T-Series has 2.71 times more views than PewDiePie.
Click To Tweet
Daily Stats
T-Series Daily Views – ~8 Million to 10 Million
PewDiePie Daily Views – ~6 Million to 8 Million
T-Series Daily Subscribers Gain – ~120000+
PewDiePie Daily Subscribers Gain – ~30000
Last 30 Days
T-Series views in last 30 days – ~2,394,954,000 (2 billion)
PewDiePie views in last 30 days – ~176,887,800 (176 million)
T-Series has received around 13.5 times more views than PewDiePie in last 30 days.
T-Series net Gained Subscribers in the last 30 days – 3.6 Million
PewDiePie net Gained Subscribers in last 30 days – 874,103 (close to 1 Million)
T-Series has gained around 4.1 times more subscribers than PewDiePie in the last 30 days.
T-Series has received about 13.5 times more views than PewDiePie in the last 30 days. T-Series has gained around 4.1 times more subscribers than PewDiePie in previous 30 days.
Click To Tweet
For detailed results, there is nothing better for these comparisons than widely popular SocialBlade.
T-Series detailed stats on SocialBlade
PewDiePie detailed stats on SocialBlade
WHY T-SERIES IS GROWING SO FAST AND WHY IS IT GETTING SO MANY VIEWS?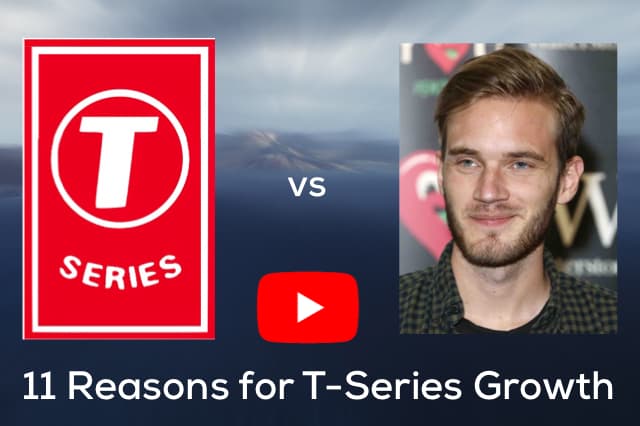 1. IS IT BECAUSE OF INDIA'S HUGE 1.3 BILLION POPULATION? Err… Yes… Umm… No!
Most of the people talking about T-Series exclaim that India has a population of 1.3 billion people and so T-Series is overgrowing. Well, this is true, but only to an extent.
India's total population is 1.3 billion. Now T-Series' main channel about which we are talking is ONLY focussed on HINDI content.
What is Hindi?
Hindi is the fourth most spoken language in the world after;
1. Mandarin (China Region) 1.1 Billion Speakers,
2. English (worldwide) 983 Million Speakers,
3. Spanish (worldwide) 527 Million Speakers.
Hindi is spoken natively by only 322+ million people. Additionally, it is the second language for 120 million people.
So in total, we can say that it is spoken or understood by 550+ million people. I have rounded off it to 550 million and included Urdu and a bit of other regional languages. This is because such people can understand Hindi and might watch Hindi content.
So roughly and naively speaking, we can argue that PewDiePie can make his content for potential 983 million people. In comparison, T-Series can make their content only for likely 550 million people, which is around half that of PewDiePie.
Thus now we can say that this population number is not the only thing that we should consider in our T-Series vs. PewDiePie comparison.
We have to look at other factors that are fuelling T-Series' rapid growth.
Extra Read: India has the world's second-highest number of languages (780 languages) in the world after Papua New Guinea (839 languages). The 2001 Census of India recorded 30 languages, which were spoken by more than a million native speakers and 122, which were spoken by more than 10,000 people.
India is the seventh-largest country in the world by area. India is so diverse that a person from North India is as clueless of languages of South or East India as someone from the USA, Spain, Sweden, or the UK. The same goes for people from South India visiting North, West, or Eastern parts of India.
Thankfully English is one of the 22 recognized constitutional languages and used throughout India as a primary or secondary language for all signboards, railway station names, food packaging, communication, IVR language, websites, etc.
Additionally India has the second-highest number of English speakers in the world after the USA.
Click To Tweet
This makes India a powerful linguistic nation. So, Felix, you should visit India someday. You potentially have millions of untapped English speaking and understanding people in India waiting to enjoy your videos.
IF NOT POPULATION THEN WHAT IS MAKING T-SERIES GROW LIKE FIRE?
Internet Connectivity, Mobile Companies, Online Shopping, Young Age group, Partnerships, Offline Presence, Multiple Channels…list goes on… there are many factors… Let us look at them one by one.
2. INTERNET CONNECTIVITY
Before 5th September 2016, one GigaByte of monthly (that is total 1 GB for 28 days) 3G data cost ₹250, that is US$3.78 (according to exchange rates of August 2016)
Note – "₹" is the symbol for Indian Rupee
In the year 2016, 4G was limited only to metropolitan cities and some big cities.
On 5th September 2016, a new mobile network provider made its services available to the public in India. This mobile network is home-grown Reliance Jio.
Extra Read: Reliance is the main company name, and Jio is the mobile network's name. Jio in Hindi means 'to live'.
Jio's mobile network is a true 4G network, or you can say it provides only 4G / LTE services, and it does not offer 2G or 3G services, and thus Jio sim cards do not work with 3G phones.
India is divided into 22 telecom circles. Jio is the only Indian mobile company having a 4G presence in all of 22 telecom circles.
LAUNCH OF JIO ON 5th SEPTEMBER 2016: Reliance Jio offered its sim card FREE OF COST within 5 minutes just by biometrics verification (fingerprint attached with World's largest identity network Aadhar).
Along with this free sim, FREE 4 GB 4G DATA PER DAY was given for the next 3 MONTHS. (Total 4x28x3 = 336 GB)
In simple terms, you pay absolutely zero, and within 5 minutes, you were getting 4GB 4G data per day for the next 90 days.
This offer was further extended to an additional 90 days, thus totaling free data for six months. However, after the first three months, the daily data limit was reduced from 4 GB per day to 2 GB per day.
There were enormous queues outside Reliance Retail and Reliance Digital stores or any telecom shop issuing these free sim cards.
Fun Fact: Jio wanted to give additional 3 months of free data, thus totaling free mobile service to 9 months, but TRAI (Telephone Regulatory Authority of India) stopped Reliance from giving free data as it was anti-competitive and other mobile networks complained as they were losing customers.

Within 83 days, Jio had 50 million users, and within 6 months, Jio had 100 million customers. It became the fastest company in the world to reach 100 million customers beating giants like Facebook, Uber, etc.
After the free period of 6 months ended and as of now (October 2018), the mobile data price in India is among the cheapest in the world.
Today users in India, get 2 GB 4G data EVERY DAY for 84 days for just ₹398 (US$ 5.43)
Click To Tweet
Compare this with the mobile data plan for your country!
There are no illogical restrictions with this data (like some companies in the USA and Europe.)
You can use Jio's mobile data anywhere (no roaming charges) and on any device. You can use it as a personal hotspot with any number of devices and of any kind without paying an extra rupee.
This huge mobile data wave increased the number of YouTube viewers, online shoppers, smart TVs, smartphones, smart devices, etc. by many folds in the country.
Fun Fact: As of now, Jio carries more mobile data than all mobile networks of the USA and China combined. Thus currently, Jio is the world's largest data network.
JIO → YOUTUBE → T-SERIES
People have a free mobile plan with daily 4 GigaBytes/2 GigaBytes of data, which expires/renews every night. What will the youth of this young country do with all this data? Porn? (pun intended) Sure.
But after storm, there is a fine calm morning.
After watching porn, you relax. Your mind is at ease. You look for some entertainment and leisure.
Who is there to provide these? — T-Series! (and YouTube)
T-Series had/has the most extensive and regularly growing collection of free movie trailers, music videos from Bollywood films and independent artists, short films, etc. It is natural people will click and watch.
This internet wave of Indian people coming on the world wide web for the first time in their lives gave rise to T-Series (and other Indian Channels.) They were exploding with views and subscribers.
Click To Tweet
3. MOBILE HANDSET COMPANIES
Smartphones are expensive. Well, they used to be. Not anymore. Around 2014, Chinese handset companies like Xiaomi, Oppo, Vivo, One Plus, etc. started selling their handsets in India. These companies provided big-screened, huge battery sized, capable smartphones at low prices.
As Chinese companies started growing, Indian mobile handset companies like Micromax, Lava, Spice, Karbonn, etc. too followed the path and started making affordable smartphones and sold them via offline and online mediums.
Huge smartphone sales resulted in more people coming online and thus lead to an increase in YouTube viewership, and T-Series was already the main Indian creator on YouTube providing Hindi speaking Indians with free entertainment.
People started attaching themselves to T-Series by subscribing.
4. MOBILE SALES AND EASY ONLINE SHOPPING
Numerous online sites are selling mobile phones in India. Four of the largest online shopping sites in India are,
1. Flipkart (recently Walmart bought 77% of Flipkart for 16 Billion US dollars)
2. Amazon
3. Snapdeal
4. Paytm Mall
Apart from usual everyday discounts, these companies have huge sales festival every year, every quarter and sometimes even in consecutive months.
Flipkart has its 'Big Billion Day Sale' and Amazon India has 'Great Indian Festival' where they provide insane discounts on products and services.
Both these biggest online market places agree that the most sold item in their sales is smartphones, related accessories/devices, and internet devices.
In India, one of the popular payment methods used by more than half online shoppers is COD or POD, which means 'Cash On Delivery'/'Card on Delivery'/'Pay on Delivery.' This allows online shoppers to place the order and pay the delivery man when he is at your door with your order (just like Pizza).
This led to even the skeptical people, parents in the late 40s and 50s, and older adults to try online shopping and buy things online with peace of mind like not getting their Debit Cards scammed or compromised. Elderly people, people working at small jobs, etc. all started updating from feature phones to smartphones.
Fun Fact: In India, maximum people use Debit Cards. Credit Cards are used in addition to Debit Cards and that too by a tiny percentage of people.
Now coming to offline sales, I will focus on two companies — Oppo and Vivo.
Samsung was (not any longer) the dominant mobile phone company in India. There were Samsung stores/shops selling Samsung phones in almost every small town/district/block.
Oppo and Vivo disrupted Samsung's blue boards and replaced it with their Green (Oppo) and Blue (Vivo) billboards, stores, shop fronts, etc.
Fun Fact: Oppo, Vivo, RealMe, One Plus are under the same parent company.
Oppo and Vivo started giving huge commission to shopkeepers for selling their phones. Some of my shopkeeper friends have even stated that Oppo and Vivo paid them sales commission which was 4-6 times the commission by other companies.
Click To Tweet
Also, Oppo and Vivo advertised heavily with Bollywood actors and, most importantly, in cricket matches and tournaments like the Indian Premier League (IPL), which is the largest, most significant, and most money-making cricket tournament in the world.
So, Indian people were seeing phone advertisements on their TVs and seeing smartphone billboards with their favorite actors and cricketers on the streets. This led to colossal smartphone sales.
And what do people do on smartphones — well many things and YouTube is one of those many things which is free, fast and pre-installed on their shiny big Android phones with Jio Sim cards already providing vast amounts of fast, cheap mobile data.
People started viewing and liking the content released by T-Series. YouTube, just like it would do with any popular channel, started showing T-Series on its main page for first-time users or not logged in users. This lead to rapid growth for the T-Series channel in the number of views and subscribers.
5. YOUNG AGE GROUP
India has more than 50% of its population below the age of 25 and more than 65% below the age of 35.
This is the age group that is the primary target for media content and advertisements. These young people opening YouTube apps for the first time and seeing their already known favorite stars from TV, dancing, or acting on YouTube was/is sure to make them keep watching these contents and/or subscribing to the free YouTube channel that is providing them this entertainment.
6. T-SERIES SIGNING BIGGEST PUNJABI STARS
Punjabi language is different from Hindi, but people who speak and understand Hindi also enjoy listening to Punjabi music, especially in regions near Punjab like New Delhi, Western Uttar Pradesh, etc. Both these languages have some similarities.
Modern Punjabi music has amalgamated lyrics in English, Hindi, and Punjabi. These songs often have dance, bass-rich music and appeal to the youth.
Click To Tweet
T-Series started producing and releasing content by Punjabi singers. T-Series has Guru Randhawa (one of the most successful Punjabi Singers), realizing his music through T-Series.
Two of the most viewed videos on the T-Series YouTube channel are by Guru Randhawa. Both these songs are extremely popular and played in cars, parties, weddings, etc.
Other Punjabi singers in their most viewed videos are Badshah, Honey Singh, Ikka, Hardy Sandhu, etc.
So T-Series despite having a separate channel, especially for Punjab and Punjabi people named 'T-Series Apna Punjab' with more than 11 million subscribers; releases popular 'Punjabi-Hindi-English' mixed songs on their main T-Series channel.
This is a brilliant step, and this has attracted a huge number of views and subscribers, as new Punjabi music is popular among Hindi speaking youth.
7. RISE OF OTHER CREATORS
In India, not only is T-Series rising rapidly, but every Indian YouTube channel has seen enormous growth due to the reasons mentioned above.
Now, there are 24 Indian YouTube Channels with more than 10 million subscribers. There are 5 channels with more than 20 million subscribers. Before 2013, there were just 2 Indian channel with more than a million subscribers.
Click To Tweet
T-series was one of those channels with a million subscribers.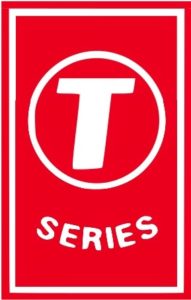 Rise of other creators and YouTube's excellent related content recommendation makes it easy for people to see T-Series' new videos in their recommendations, thus fuelling growth and subscribers.
8. RAPID FREQUENCY OF UPLOADS
T-Series uploads around 6-8 videos every day. PewDiePie, in comparison, uploads just one each day. Some YouTubers say that views ratio per video (some similar terms) is better of PewDiePie than T-Series.
Well, they are right. But this is just normal and understandable.
T-Series has 67 million subscribers, but most of their daily uploaded videos get around 500k views in one day and a few million in a week or month. Only a few videos become viral and get 100+ million views or 200+ million views in a month.
PewDiePie, on the other hand, uploads one video per day, and that video definitely gets million-plus views in 24 hours.
So instant daily views for every new video by T-Series are all about upload frequency and people's attachment and liking with the title, thumbnail, and maybe content of the video.
PLEASE SEE MY REPLY TO THE FIRST COMMENT IN COMMENT SECTION TO BETTER UNDERSTAND THIS.
For almost every song, T-Series uploads a teaser of the song, then the song itself, then the lyrical video of that song, then maybe remixes of that song and so on.
Similarly, for a movie, T-Series might first release a movie poster launch video of one minute or so. Then it will release the teaser followed by movie trailer and other movie clips or additional trailers.
This increases the frequency of their video uploads, and this is natural and certain that not 10 million people will watch a song teaser every day despite getting that video in their YouTube Subscription box.
PewDiePie makes jokes and makes people laugh, so a significant portion of his subscribers is going to watch his every video every day. This is because his videos have a genre consistency.
T-Series, on the other hand, uploads multiple videos of different kinds. Some are good, some are garbage, some just does not suit a person's taste, some are just sixty seconds music teaser etc. So most of the subscribers would just…
Click To Tweet
Therefore comparing PewDiePie's and T-Series' views per video ratio doesn't hold much rational value.
But T-Series uploading 7 times more videos than PewDiePie indeed reaches more random people and thus more overall combined views.
Strictly comparatively speaking, between T-Series and PewDiePie, in my opinion, PewDiePie gets most of the initial views from his subscribers while T-Series gets it from YouTube recommendations and songs/movie trailers being viral or popular on radios, TVs, etc. T-Series' videos hardly get views on the very first day of upload. (see next point)
9. TYPE OF CONTENT
PewDiePie is a single man making jokes and memes. His channel has one face and that face his Felix Arvid Ulf Kjellberg. His videos are on YouTube and YouTube only. T-Series, on the other hand, has hundreds of faces.
Click To Tweet
"A T-Series song does not become hit solely by/on YouTube."
Let us see how T-Series produces a multi-million times viewed video.
First, the song is released on T-Series official YouTube Channels and other partnered music streaming sites and TV channels. Most of T-Series YouTube subscribers skip this song.
Now, if this song is a hit on FM, Radio, TV channels, music streaming sites/apps, people naturally want to listen to it again or watch the music video or share it with friends and what easy and free platform for doing all these than YouTube!
So the T-Series videos with 500 million views or 300 million views are a result of many external factors which PewDiePie does not have! Music Label vs. Only YouTuber.
Click To Tweet
10. PARTNERSHIP OF T-SERIES
T-Series has partnered with every music streaming site and app in India that you know or can think of. You can listen to songs released/produced by T-Series on,
Apple Music,
Amazon Prime Music,
Gaana,
Saavn,
Jio Music,
Wynk Music,
Hungama,
iTunes,
Google Play Music,
Idea Music,
Spotify.
As an Indian, can you think of any other music streaming apps? Even if there are, I am sure T-Series has songs on those apps too.
Content produced by T-Series is ubiquitous in India! Just look at the video description of one of the T-Series videos! It has all the different links and ways to set caller tunes.
Fun Fact: Spotify is not available in India yet. Still, I have seen some music from T-Series available on Spotify. Update: Spotify is now available in India.
Fun Fact: Not only YouTube, but T-Series is also the channel with most followers on DailyMotion.
11. MULTIPLE CHANNELS
T-Series has 25 other official channels in addition to the main T-Series channel. These additional twenty-five T-Series channels are there to cater to specific regions or groups of people.
For example,
T-Series Apna Punjab for Punjabi speaking people.
Fact: Punjab is a prosperous state of India with majority Sikh population.
T-Series Telegu is especially for states of Andhra Pradesh and Telangana. A Hindi speaking person can not understand Telegu.
Similarly, T-Series has T-Series Bhakti Sagar with over 12 million subscribers only for Hindu devotional songs.
Other channels by T-Series are,
T-Series Kids Hut
T-Series Kannada
Shabad Gurbani (for Sikh devotional hymns and songs)
T-Series Islamic Music
Health and Fitness and even
T-Series Kids Hut – Portuguese Fairy Tales
See the below screenshot for other channels with self-explanatory names.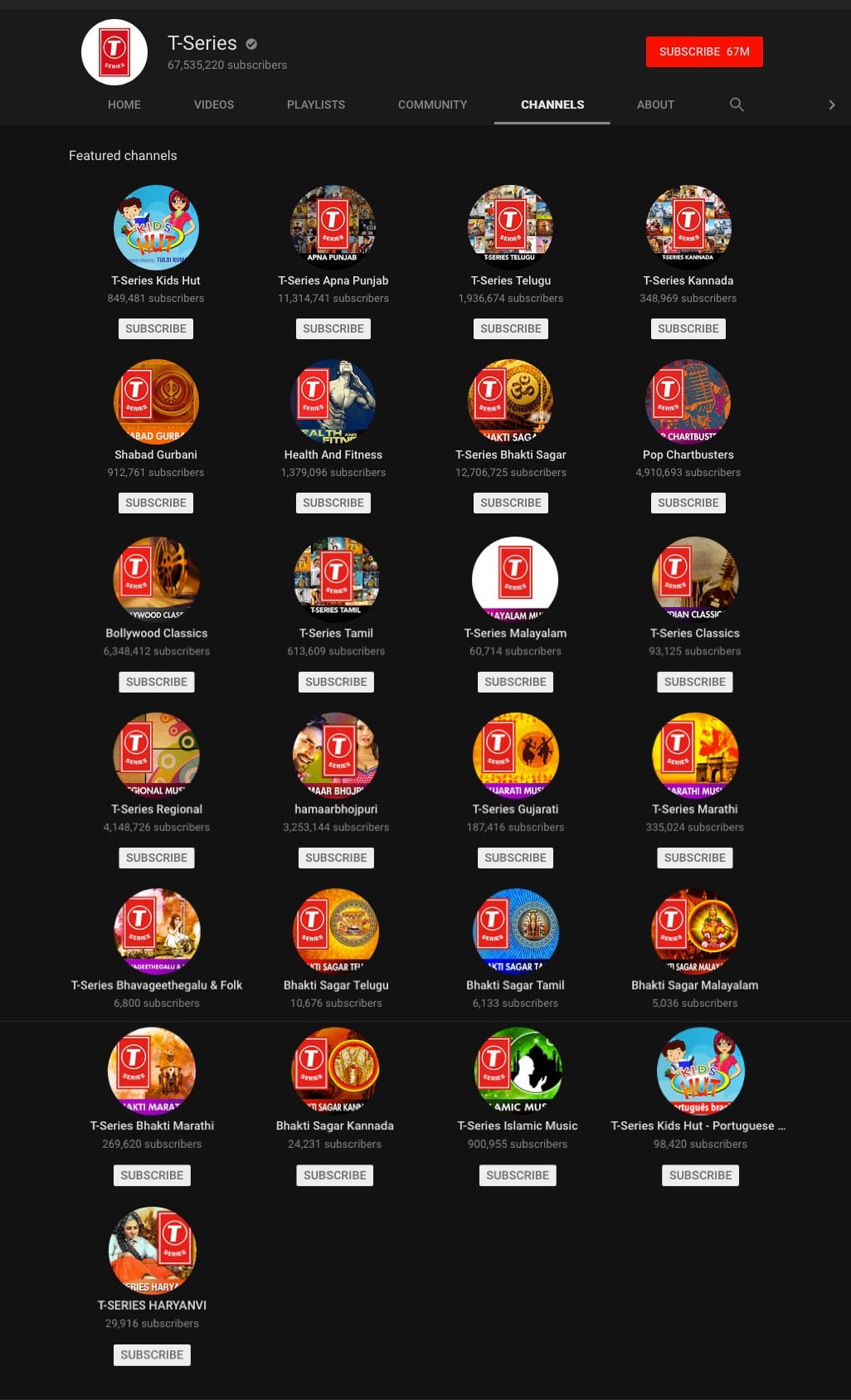 In total, all T-Series channels (except main T-Series) combined have a subscriber base of – 50,600,418 that is more than 50 million.
If we add 67 million subscribers of T-Series main channel with its other 25 channels then it equates to more than 117 million subscribers!
Click To Tweet
This multiple-channel presence makes the T-Series name widespread with different types of people. So in a way, 26 T-Series channels are indirectly and unknowingly advertising for one another and building an image of T-Series' red logo in people's minds.
PEWDIEPIE VS. T-SERIES: IS THE COMPARISON FAIR
Off-course!
I know 99.9 percent of the people who have made videos on this topic do not agree with me. Most of you won't agree with this, but please hear me out.
Every big and semi-big channel on YouTube is not just one man. There is a team of people working.
For Example – Linus Tech Tips has a team of 20+ people producing content for four YouTube Channels under Linus Media Group.
Similarly, PewDiePie definitely has some people working for him who are employed by him and help him in making videos for his channel.
Now suppose, The Ellen Show or Dude Perfect was to become the most subscribed channel on YouTube.
Would you say the same thing about comparison?
Some would argue that YES, the comparison is unfair as Ellen already comes on TV and is popular from there. I agree. See the next point.
Similarly, Dude Perfect is not just five men, but there is a big team helping them build sets, shoot videos, edit, etc. Five men are the faces we see on their channel. This makes us think that they are just five people responsible for this channel, but in reality, there are dozens of people working behind.
Similarly, T-Series has multiple people working for it. One thing that differentiates T-Series is that they have no fixed face. T-Series has no particular living face!
But this should not make us think that comparison is not justified.
YouTube does not differentiate between individual channels or company channels. YouTube will support whatever brings it more revenue. YouTube has reached such a height that it no longer needs to please anybody specific. The situation is such that creators and audiences need YouTube because there is no meaningful, strong alternative to YouTube.
There has never been a song in Hindi, English, French, and other regional languages that I have searched on YouTube and did not find it!
YouTube has become so mammoth that it has an advantage. It will support whoever brings in more revenue. If YouTube sees that traditional TV shows like Jimmy Kimmel, James Corden are bringing in more views and thus more revenue, YouTube will start working with them. This is the nature of the business.
Thus if YouTube has until now made no distinction between creators, then we too should not.
T-Series or PewDiePie, on YouTube, they are just channels and not company channels or individual channels.
But T-Series has an advantage over PewDiePie, which is neither in YouTube's control nor PewDiePie's control.
PEWDIEPIE VS. T-SERIES: IS THE COMPARISON FAIR
Off-course Not!
In one of the reasons above, I discussed how T-Series releases its content on a dozen different platforms and mediums like FM, TV, CDs, Music Streaming apps, etc., while PewDiePie just has YouTube. This certainly makes the comparison unfair.
But what can one do?
Despite both channels being in entertainment family, the nature of the content published by T-Series and PewDiePie is absolutely different.
So comparing PewDiePie with T-Series is like comparing Google Services and Samsung Mobile.
T-Series is Google — Present on all platforms, be it Web, iOS, or Android. T-Series is present everywhere, be it TV, Radio, Music or Movie Apps, CDs, etc.
This everywhere presence makes a brand name known and memorable in people's minds. So next time a person sees the name 'T-Series' on YouTube, he will definitely know what it is. He is already familiar with the name and would like to be associated with it as he has already seen and heard about T-Series at many prior places.
PewDiePie is Samsung's Mobile Division— Despite selling more phones than Google, Samsung has a limited presence. It just builds hardware (phones). PewDiePie, as of now, despite having more subscribers, just makes videos on YouTube.
So comparing both in whole isn't justified, and comparing both by closing eyes and looking only at Youtube stats is also not justified as T-Series depends heavily on outside influence for growth on Youtube.
But we have to reach a conclusion!
When plain numbers are to be compared, we just have to look at the numerical and not the background story or our personal feelings. And thus, when we compare numbers to numbers, T-Series emerges as the bigger player in every field.
I have seen 10-15 PewDiePie videos and have loved them. I have laughed watching those videos, I have shared some of the videos. I have listened to my old favorite songs on T-Series channels and have been grateful to them for making content produced by a multi-million dollar production house absolutely free and easily accessible.
FUTURE OF T-SERIES GROWTH
T-Series will continue to grow at this pace for the next 2-3 years.
Despite being the world's second-largest smartphone market (after displacing USA to third place and behind only China), percentage of Indians using a smartphone is just around 36%.
Click To Tweet
Other mobile networks are rapidly expanding their 4G/LTE services, and major players like Airtel, Reliance Jio, and Government controlled BSNL are already working on implementing 5G services.
Fun Fact: The 14 to 20 billion US dollars spent on infrastructure by Jio is already 6G proof, which means that Reliance Jio will have to invest very little in upgrading its infrastructure even to provide 6G services.
Samsung, Apple (iPhone SE, 6s, 7 only. Update: Now iPhone X), Xiaomi, Oppo, Vivo, Lava, etc. have already started manufacturing/assembling in India. These phones have 'MADE IN INDIA' written on them and not 'MADE IN CHINA.'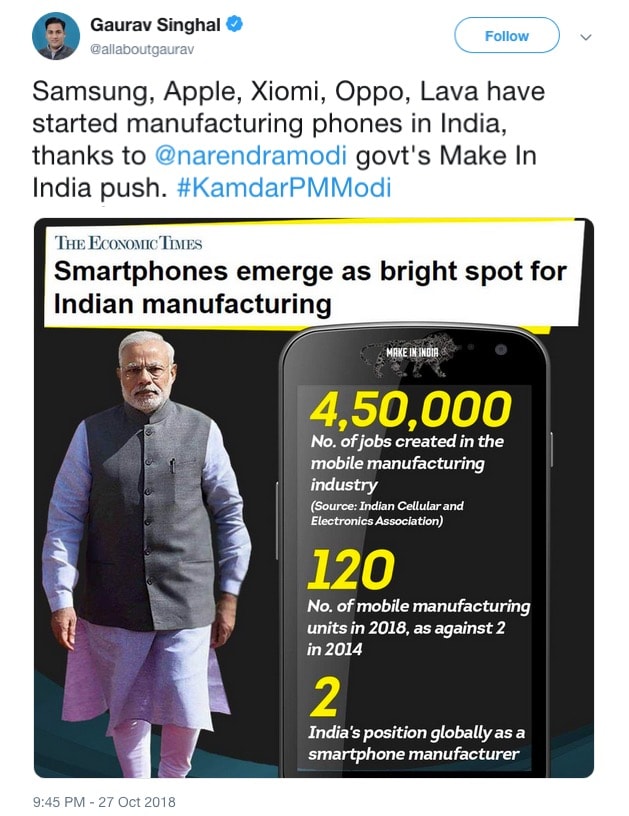 Production of phones in India has reduced various taxes and duties on mobile handsets, thus helping smartphone sales.
Fun Fact: Both Samsung Galaxy Note 9 and Apple iPhone X were launched in the USA at 900+ dollars. But the original price of Samsung Note 9 in India was ₹73,600, while the original price of iPhone X (64 GB) was ₹92,000. There is a difference of ~ ₹20000. One main reason for this is that Samsung phones are manufactured locally while iPhones are manufactured and assembled in China and have to pay taxes and other duties to the government.
In July 2018, Samsung inaugurated the world's largest mobile factory capable of producing 120 million phones a year in Noida, India.
The middle class in India is rising, and the poor class is also seeing a better life with resources. All this is further expected to increase technological penetration in villages and among poor people. All this is definitely expected to bring a large number of Indians on the internet (and YouTube) for the first time.
India has a big student population. There are cities in India like Kota, Rajasthan, which is only known for coaching classes for engineering and medical.
The number of Indian educational channels on YouTube is growing rapidly. And once a student comes to YouTube for clearing a textbook doubt, in a week, he will be back to listen to his favorite song. This is how YouTube works!
Feature phones are replaced by smartphones or smart-feature-phones like JioPhone with an effective cost of ₹0 to ₹500 (US$ 0 to US$ 7) JioPhone runs Kai OS which has Google Assistant, YouTube, WhatsApp, Video Calling, etc. Monthly data plans for JioPhones are as low as ₹48 (US$ 0.66)! By August 2018 (year and a half since release), 40 million Jio Phones have been sold!
The future of India in every sphere is going to be exciting!
As far as T-Series and PewDiePie are concerned, I just have to say that both are YouTube greats. For me, none of them is a winner or loser; they both are extraordinary minds who have defined YouTube and will continue to entertain their audiences with their brilliant content.
The picture of PewDiePie has been taken from here.
---
UPDATES:
1. This post was published on 28th October 2018.
2. 2nd November 2018: Original Title of this post was "How and Why T-Series surpassed PewDiePie – explained by an Indian." The time when this post was written T-series was just about 160000 subscribers behind PewDiePie and was expected to overtake in the next 24 to 48 hours. Later due to Radio ads, Billboard ads (by PewDiePie's supporters), and other such online and offline initiatives, the gap between PewDiePie and T-Series has increased by over 700000 subscribers. So I thought it is now appropriate to change the title as it will take time for T-Series to overtake PewDiePie. Also maybe by that time 5-Minute Craft overtakes both! 😉 This channel has amazing growth.
3. You are welcome to use the comment box below to share your opinion. You are also welcome to say Hi or contact me for/with suggestions, concerns, copyright issues, constructive criticism, query, etc. I would appreciate your involvement.
Please note before commenting that,
I have not taken sides. I am just comparing and mentioning 'WHY T-SERIES GROWS SO RAPIDLY.'
At times I have enjoyed videos from these two great creators, but I am not subscribed to either T-Series or PewDiePie. I prefer to watch content from ColdFusion, PolyMatter, Wendover Productions, VisualPolitik, TechAltar, LEMMiNO, Business Casual, etc.