Instant Mobile Messaging has been popular for quite some time now. iMessage, Facebook Messenger, WhatsApp, WeChat, Hike, Telegram are just few of the most popular Instant Messaging services.
At the core, all these perform the same task, that is to securely and instantly send messages and media from sender to the receiver.
However each of these have some extra features which helps them differentiate from the rest.

Here we will be talking about some tips and tricks for Telegram Messenger.
1- AVAILABLE EVEN FOR iPAD and WINDOWS MOBILE.

Telegram is the VLC of instant messaging. Telegram is available on almost all modern platforms including Windows Mobile.
Besides being available for iPhone and Android, Telegram has a web version as well as apps for macOS and Windows. Unlike WhatsApp, Telegram also has an app for iPad. This makes it one of the few apps which you can use irrespective of the platform/device. You can sign in to as many devices as you want with the same account and use it at the same time.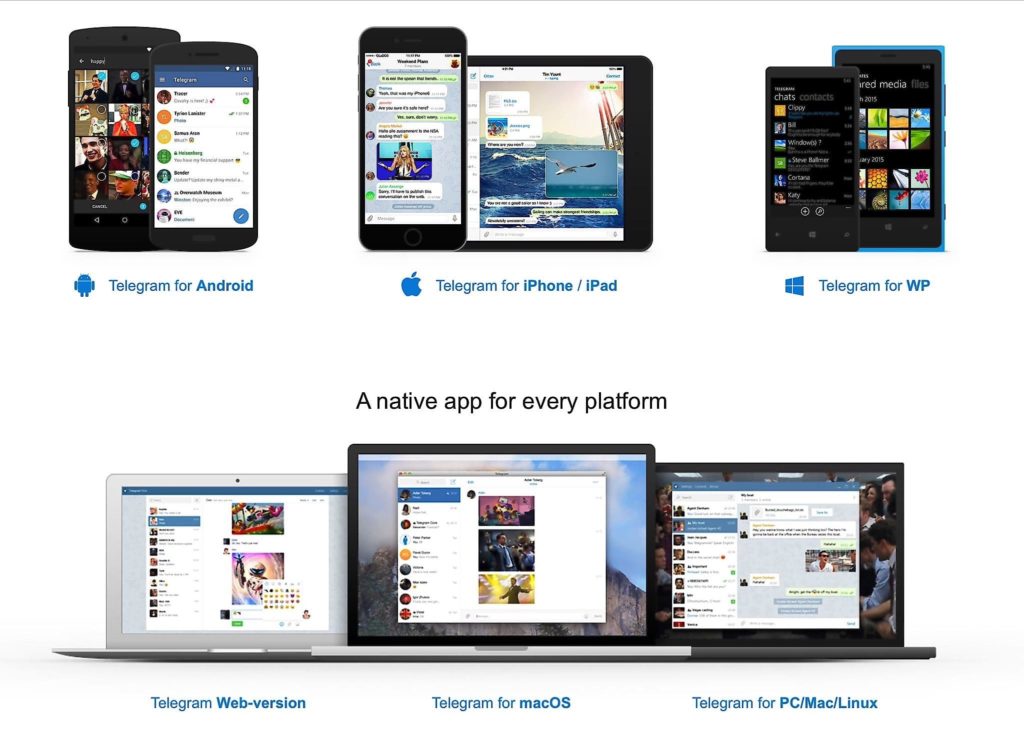 2- MAKE CALLS FROM LAPTOP OR COMPUTER.
Telegram allows user to make voice calls from macOS app or Windows app.
(However unlike Skype, voice calls are not supported on web version of Telegram which is accessed using Browser at https://web.telegram.org/)
3- LOCK CHATS AT YOUR COMFORT.
Telegram supports password lock even on iOS and macOS apps. One unique thing is that you can set different passwords for iOS and macOS Telegram apps even if you are using the same account on both.
To set password go to Settings – Privacy and Security – Passcode & Touch ID
4- TWO FACTOR AUTHENTICATION IN WEB VERSION.
One secure thing about Telegram is that it supports Two Factor Authentication even for Web Version of Telegram.

To set this up,
Either setup Two Factor Authentication in Telegram mobile app or,
a- Go to https://web.telegram.org/
b- Select your country and fill in your mobile number associated with Telegram account.

c- Next you will receive a text message (and also a Telegram message inside Telegram app on your already logged in Telegram mobile or computer apps). This text/Telegram message will have a login code. Fill it in. Now you are logged in to web version of your Telegram Account.

d- To set Two Factor Authentication click on three horizontal lines on top left and then go to settings.

e- Click on 'Set Additional Password'. Fill the asked self explanatory details like password, password hint and email. Click Save.

f- Now whenever you login to Telegram app on mobile app or another browser or another computer you will be asked to fill in this code as a second wall of verification after OTP verification.

g- To check this open any other browser than the current browser you are logged into Telegram.
(For Example if you are using Chrome, open another browser like Firefox or simple open an Incognito Window of Chrome and try logging in. You will be asked to fill the password that you set, after filling in the text/telegram message code.)
5- AUTOMATIC LOCK DURATION/EASY LOCK.
You can set time duration after which the Telegram app will automatically lock the chats/Telegram app if you are not using it.
You can choose to set auto lock duration from 1 minute, 5 minutes, 1 hour or 5 hours. You can also switch off auto lock.
To lock the app instantly irrespective of the auto lock settings, just click on the tiny lock symbol (or the word 'Chats') written at top middle of app home screen.

Additionally on macOS Telegram app, on the bottom left there is a settings icon when you are at all chats window. Place (NOT click) your mouse pointer on the settings icon. An option to 'Lock Telegram' will slide up. Click on it. Telegram app is now locked.
(Note- This will work only if you have set up password by going into Settings – Privacy and Security – Passcode.)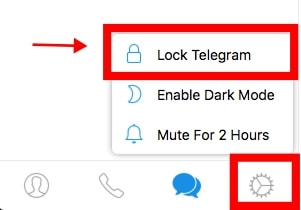 6- CREATE OWN STICKERS.
Using the 'Stickers' bot you can create your own stickers using PNG images with transparent layer.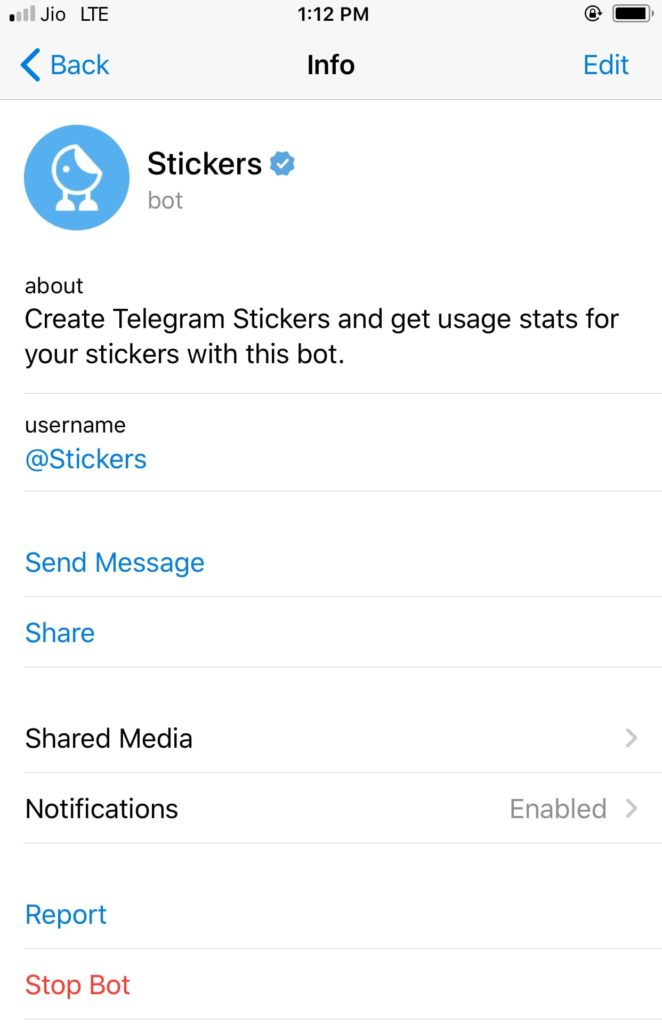 7- INDIVIDUAL REPLY TO ALL LOCK SCREEN MESSAGES.
On iPhone if you get five WhatsApp messages and you reply to one, all the other WhatsApp messages also go away. It is also annoying when you are in conversation from lock screen with a person and are typing the reply and in meanwhile that person sends another WhatsApp message. Now this new message is not visible as you are already typing a reply to earlier message. If you hit send the new message also disappears without you having seen it. To see this message you have to unlock your iPhone and go inside that WhatsApp chat to read the message.
This isn't the case with Telegram.
If you have five Telegram messages on your iPhone's lock screen and you reply to one, the other four Telegram messages stay on the lock screen. Now it might be handy for some and troublesome for few. But this certainly is helpful for me.
8- A SEPARATE CHAT FOR ALL IMPORTANT SAVED MESSAGES.
On WhatsApp we have the option to put a star on a message that we consider important. Telegram takes this approach to the next level. It allows a separate chat box which has all the saved messages from all your contacts. It is easy to view all the important saved messages at one screen. Additionally, next to each saved message there is an arrow pointing right which takes directly to the  person's whole chat of which that saved message is a part of.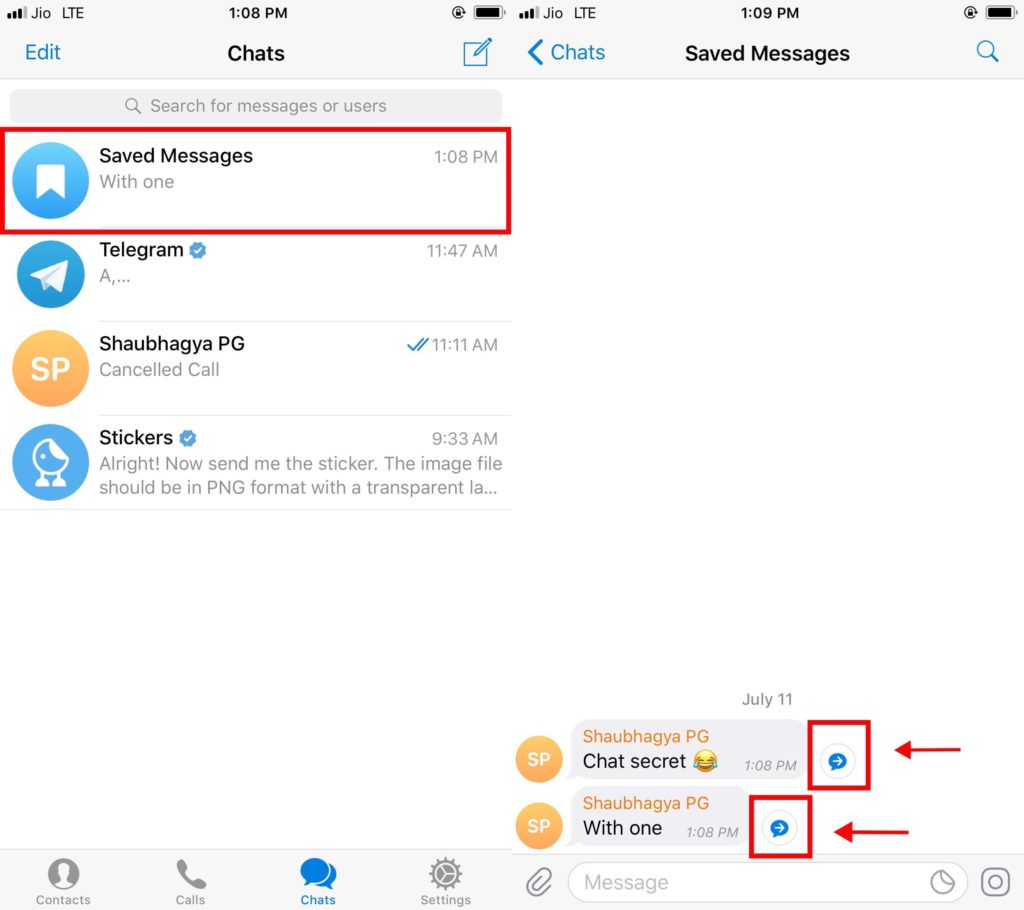 9- NIGHT MODE EVEN FOR MACOS APP.
Mobile Telegram app currently has four colour themes- Day Classic, Day, Night blue, Night. One which I love is Night Blue.
But all fun is not only on mobile. Official Telegram app for macOS also supports these themes.
To turn this on,
a- Launch Telegram App on macOS laptop or computer.
b- At the bottom left you will see a settings icon. Click on it. Next Click on 'Theme' and select your desired Colour Theme.
Additionally you can quickly turn on Night Mode by simply placing (NOT clicking) the mouse pointer on settings icon (at bottom left). An option to turn on Dark Mode will slide up. Click on it. Enjoy Dark Mode.
10- CLEAR CACHE TO FREE SPACE.
Telegram allows to effectively manage space by clearing Cache files and stickers.
Go to,
Settings – Data and Storage – Storage Usage – Clear Cache
and you can free some space.
Additionally you can turn on or turn off the ability to save photos from channels and group chats to manage your phone space.
To do this go to Telegram Settings – Data and Storage – Save Incoming Photos
Here you will see options for saving photos from Contacts, Private Chats, Group Chats and Channels. By default these are turned off. You can decide accordingly to manage your space.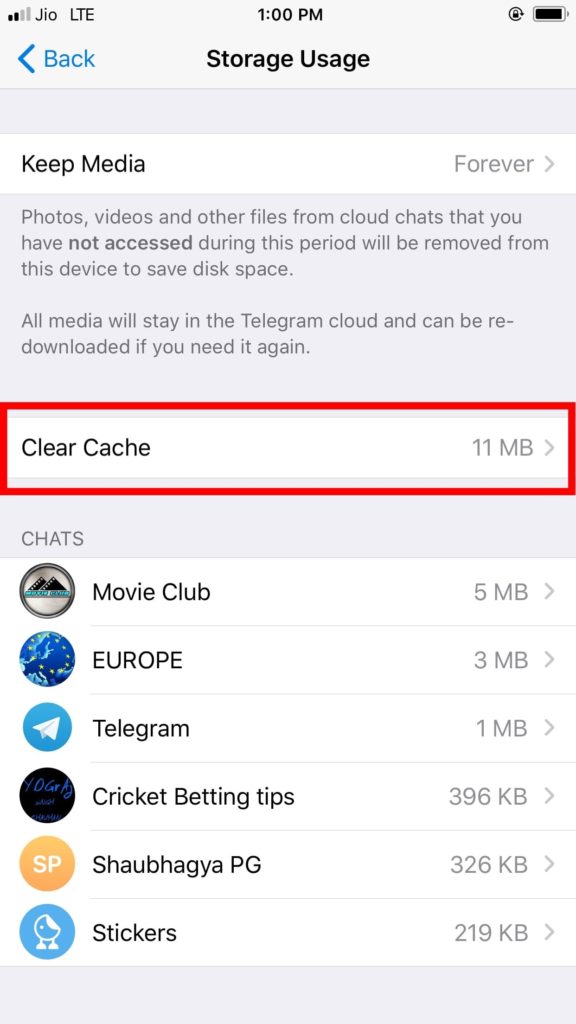 11- KEEP FILES FOREVER IN CLOUD STORAGE FREE OF COST.
With other popular messaging apps if you delete a file or image to free local space it is gone from your end. You can not get the media back. But on Telegram you can choose to keep the media in their cloud storage for as long as you want. And this is absolutely free of cost with no limitations.
By default this is turned on (and set to keep your media forever). You can change it according to your preference.
To do so go to,
Telegram Settings – Data and Storage – Storage Usage – Keep Media
Here you can choose to keep media on cloud storage for 3 days, 1 week, 1 month or Forever (default)
Now even if you clear cache from local storage of your device to free space, you can easily get the files and images from the cloud storage by simply opening the chat. Files and images would automatically load again (if you scroll to its position.)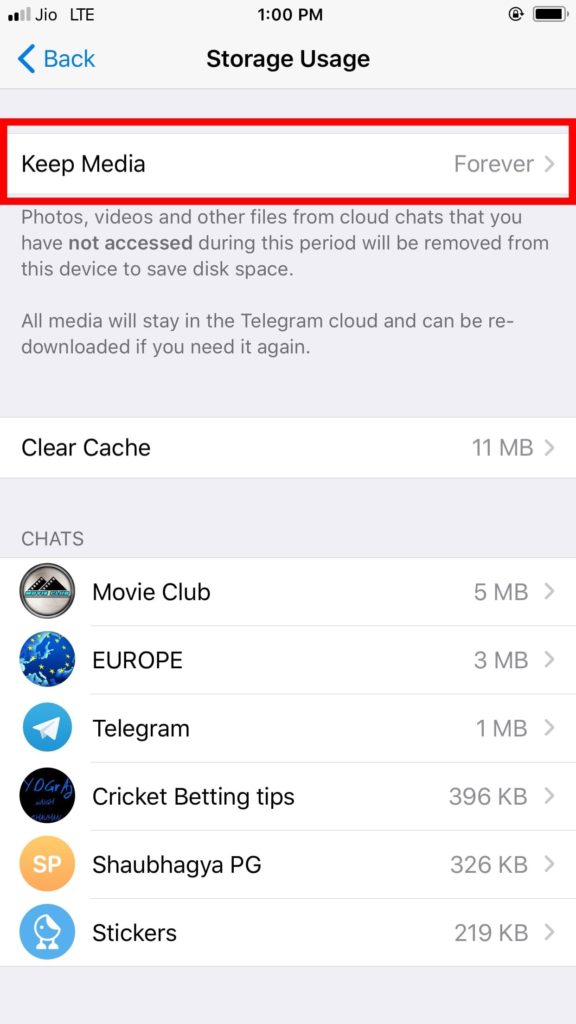 12- SAVE DATA COSTS BY LIMITING AUTOMATIC DOWNLOADS OF FILES AND VIDEOS

 

BY CUSTOM FILE SIZE.
Go to Telegram Settings – Data and Storage
Under Automatic Media Downloads you have various self explanatory options like completely turning off automatic downloads.
Telegram takes it a step further by adding few extra niche options like giving users the option to turn on or turn off cellular and Wi-Fi automatic downloads according to Contacts, Other Private Chats, Group Chats and Channels.
Additionally, Telegram also allows to set the file size of videos and files which can be automatically downloaded.
For this go to Telegram Settings – Data and Storage – Video (or Files) under Automatic Media Downloads. At the bottom you can set the automatic file download size from 1 MB to unlimited.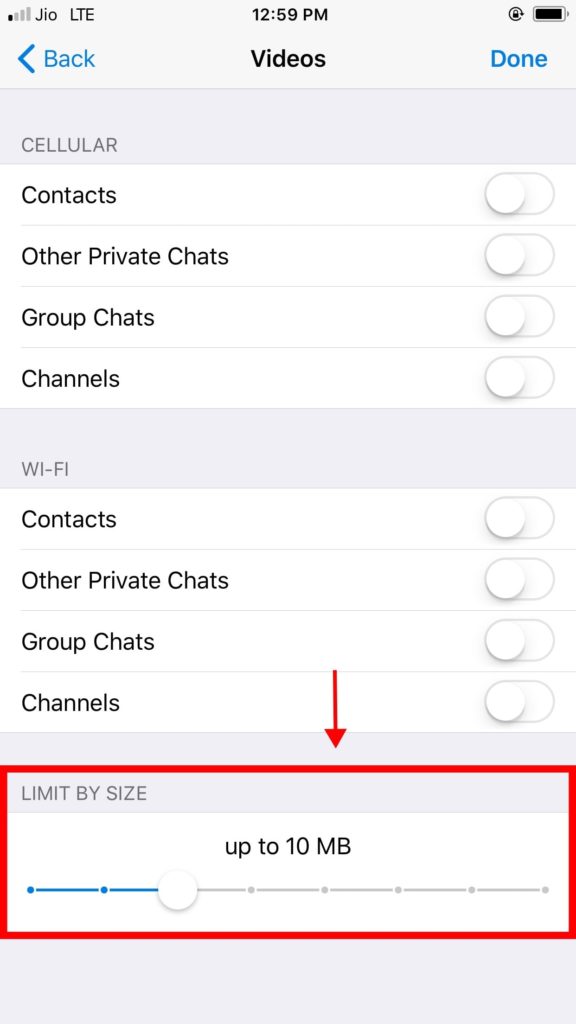 13- SELF DESTRUCTING IMAGES AND VIDEOS.
Telegram allows its users to send images and videos which self destruct after the set time frame. You can choose to self destruct the image/video after 1 second to 1 minute. (In between there are many other time frames to choose from.)
To send a self destructing image,
a- Open a chat, click on paper clip icon on bottom left and select the image/video you want to send or click one using the camera.
b- After that you would be on edit screen. (Here you can add stickers or draw on the image or video if you want.)
c- On the bottom right there would be an icon resembling stopwatch. Click on it. Select self destruct time duration and hit send.
d- Image/Video will automatically get destructed (deleted) from the receiver's chat after the expiration of the time frame set by you.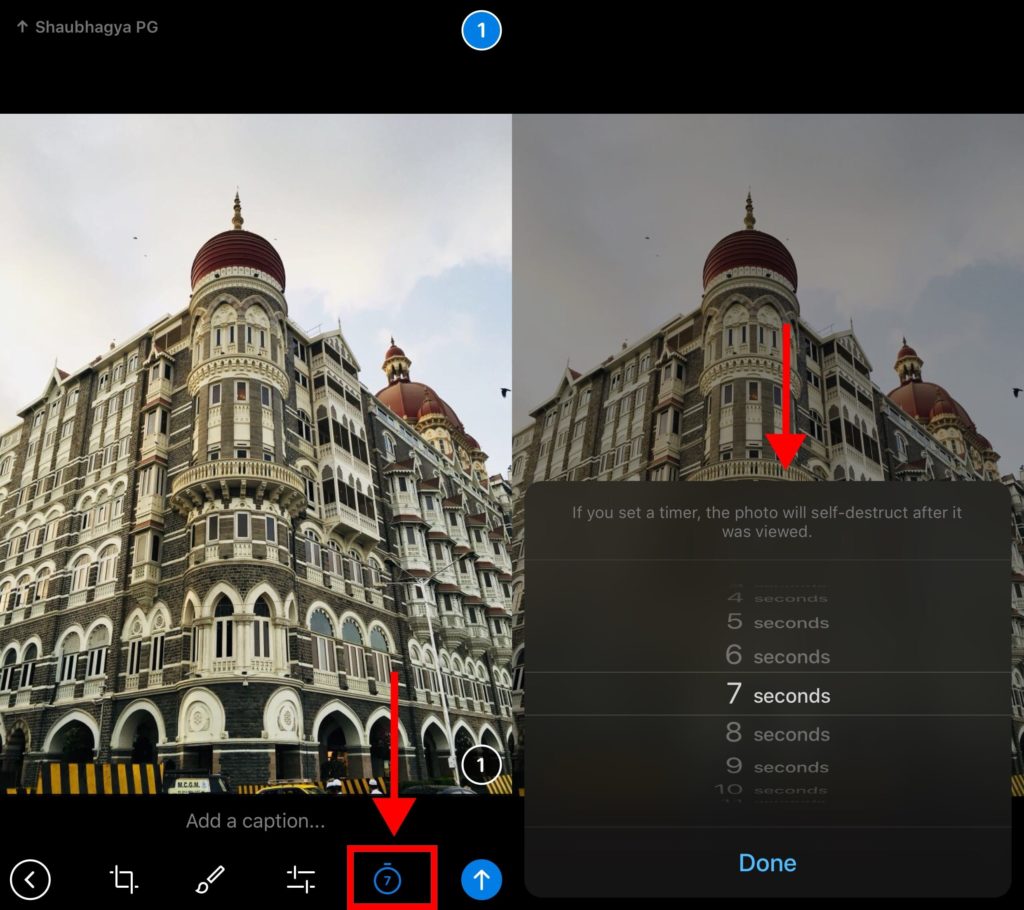 14- SELECT MULTIPLE IMAGES IN FULL SCREEN.
On Telegram you can view and select multiple image or videos in full screen mode.
To do so,
Open a chat, click on paper clip icon on bottom left and select the image you want to send. Now on the top right corner you will see a circle. Click on it.
Now you can swipe left or right and view images or videos on full screen. To select image(s) just keep selecting them by clicking the small circle in top right.
Click the blue arrow to send all selected images and videos in one go.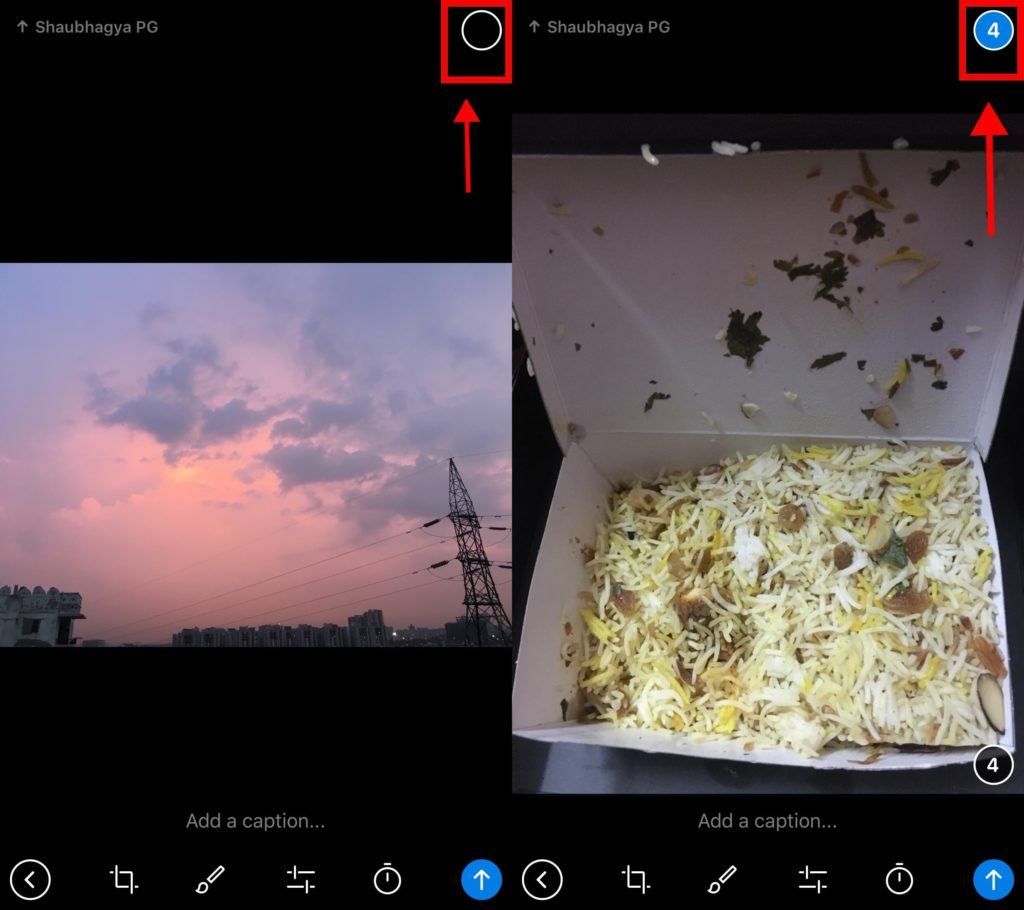 15- REMOVE / SHOW CALLS TAB.
Telegram provides one click option to either show or hide calls tab on main screen.
Go to Telegram Settings – Recent Calls
Here you can choose to either show or hide Calls Tab icon in the Tab Bar (bottom bar on the main Telegram screen.)
If you choose to hide calls tab you can still see the list of calls (outgoing+incoming+missed) by going to Telegram Settings – Recent Calls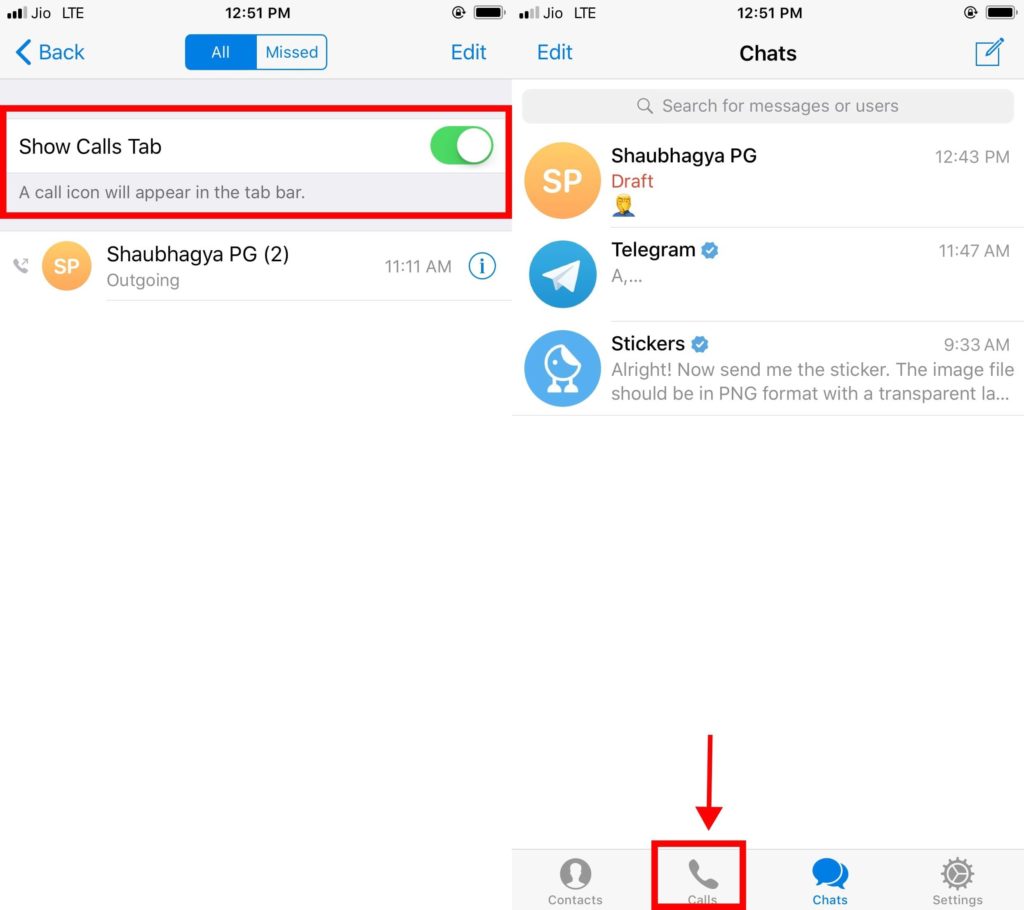 16- APPROXIMATE LAST SEEN SHOWN EVEN IF YOU TURN OFF YOUR LAST SEEN.

Telegram shows you approximate last seen of an individual even if you have turned off your last seen. It shows rough last seen by using approximate  terms like 'Recently' , 'Within a week', 'Within a month', 'Long time ago'.
17- CONTROL OVER WHO CAN ADD YOU TO GROUP CHATS.
Unlike WhatsApp, on Telegram you can choose who adds you to Group Chats. You can choose between Everybody and My Contacts.
You can even disallow individual persons from adding you to group chats.
To do so,
Go to Telegram Settings – Privacy and Security – Groups
18- AUTOMATIC DARK THEME ACCORDING TO YOUR SCREEN BRIGHTNESS.
Wish to automatically have dark theme when your screen brightness in below a certain level or have a dark theme every night for those long late night chats and it being turned off automatically in the morning.
You can easily set scheduled time for dark theme or set it to automatically adjust according to your phone's screen brightness.
Go to,
Telegram Settings – Appearance – Auto Night Theme – Scheduled
Now you can give the app location permission and set it to automatically enable or disable dark theme according to local sunrise or sunset.
Additionally you can set specific time according to your preference.
(This is similar to how Night Shift can be configured to work automatically on Apple devices.)
Also you can set the Telegram app to automatically enable or disable Dark/Night theme if the screen brightness falls below the set level.
To do so go to,
Telegram Settings – Appearance – Auto Night Theme – Automatic
Set the screen brightness setting present there according to your choice. Now whenever your phone display's brightness falls below that set level, Telegram app will automatically switch on dark mode.
(For proper implementation of this make sure you have Auto brightness turned on in your device display settings.)

19- STICKERS INSTEAD OF EMOJI.
Emojis are cool. They are able to express multiple feelings in one click. However you can choose stickers which are bigger and different than emoji in very simple steps.
In a chat just click on the emoji you want to send. Within few milliseconds stickers conveying similar message to that selected emoji will show up. You can click to send sticker instead of emoji.
This option is turned on by default.
You can manage this option by going to,
Settings – Stickers – Suggest Stickers by Emoji
Here you can choose 'None' to switch this feature off.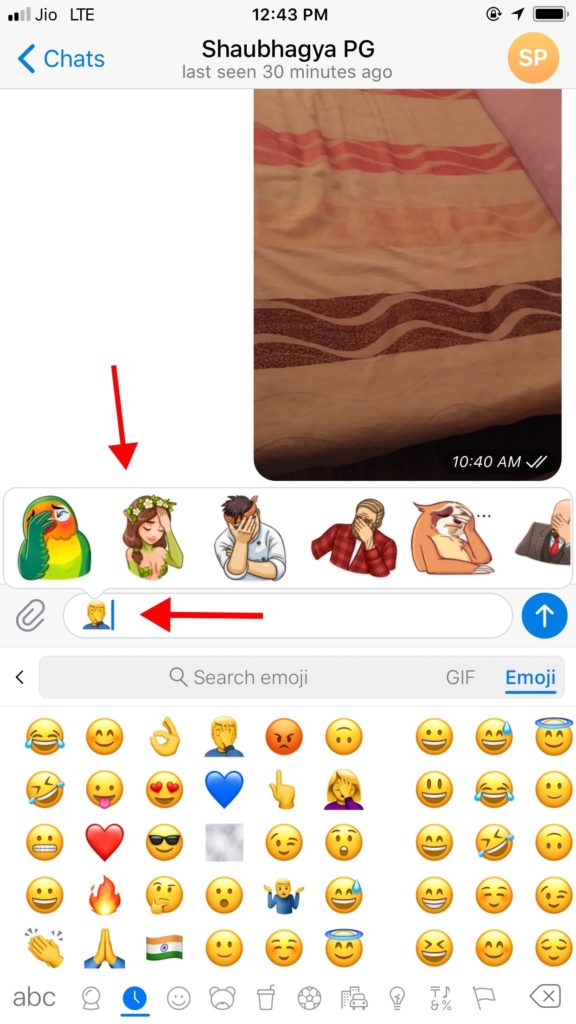 20- CHAT WITHOUT SHARING YOUR PHONE NUMBER.
Go to Settings – Set Username
Now you can simple share your username and people can chat with you without you revealing your phone number.
Additionally you can share your username in a web link format like this.
https://t.me/username
Replace username above with your username and share it.
People can click on that link and it will automatically open a chat window with you on their Telegram App / Telegram Web Version.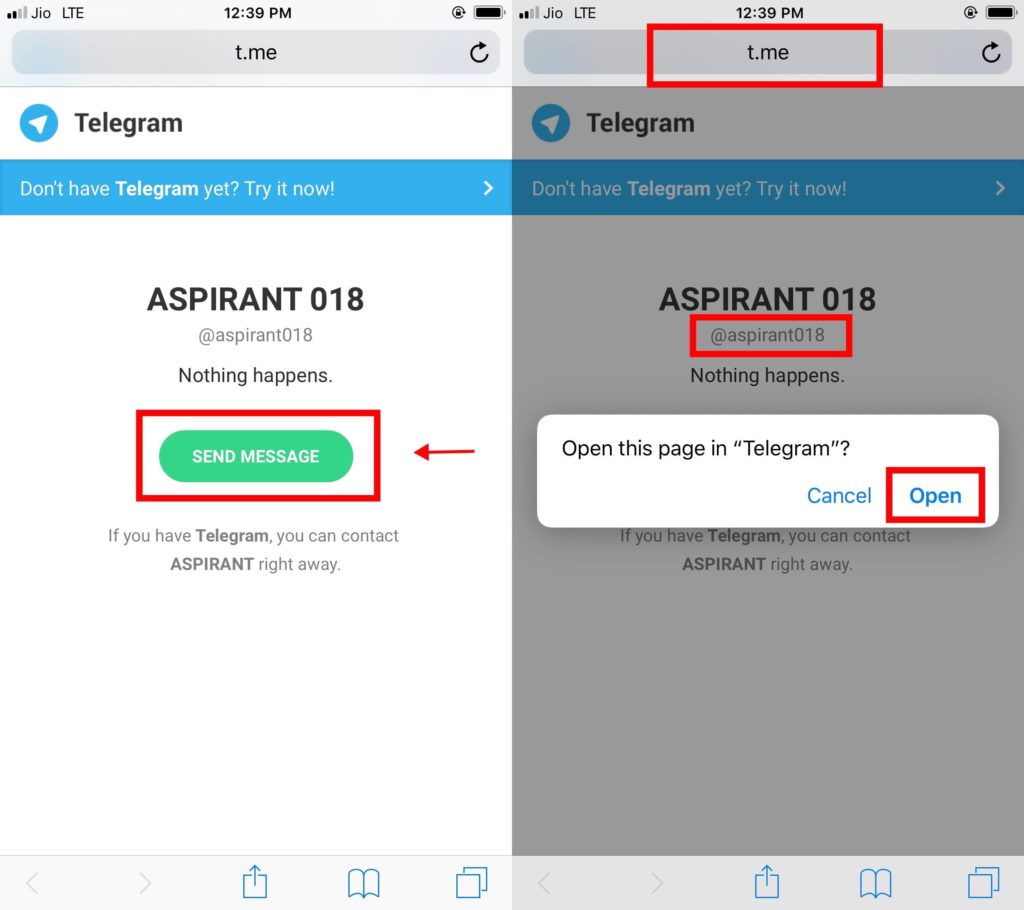 21- DISCOVER CHANNELS AND JOIN THEM.
In search box you can search for things like cricket, Europe, movie etc. You will get channel suggestions. You can join them and talk to like minded people who share the same interest.

22- CHOOSE TO AUTOMATICALLY DELETE ACCOUNT AFTER INACTIVITY.
Telegram allows to automatically delete account if you are away for a time period. You can choose automatic deletion if you are inactive for 1 month, 3 months, 6 months or 12 months.
To manage this go to,
Settings – Privacy and Security – If Away For (under DELETE MY ACCOUNT)
Select preferred time duration.
Overall Telegram is a great messaging platform. It is secure, encrypted, omni present across all platforms and feature packed yet simple to use. But, in a country like India where WhatsApp is the ubiquitous messaging app and 'Made in India' Hike the next favourite alternative to WhatsApp, it is tough to find friends from our contact list who are on Telegram.
However, the popularity of Telegram is growing especially among college students who use it to share notes/big files in groups and also by couples who want some privacy and do not want to be seen online on WhatsApp at odd hours.